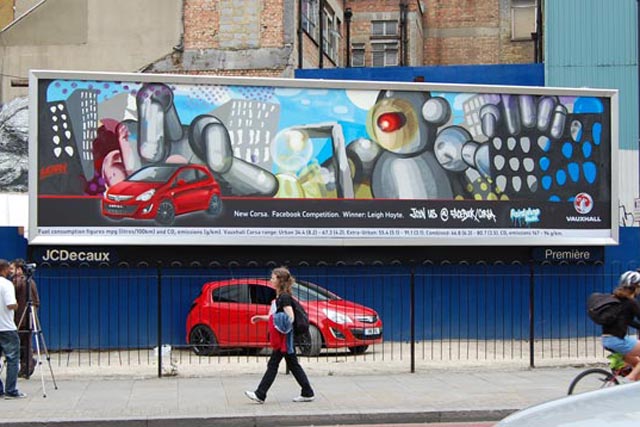 The online campaign was planned by Aegis Media agency Carat and created by Marvellous. It asked the UK public to design a scene featuring a Vauxhall Corsa, using a Facebook application, and then post the designs to a central gallery.
The 10,000 entries were whittled down to a shortlist of 20 through a public vote on Facebook, and then judges from Vauxhall and graffiti and street art studio Paintshop Studio decided the ultimate winner.
The winner, Leigh Hoyte from Buckinghamshire, received a limited-edition new Corsa and his design was spray painted by professional graffiti artists Dep and Tizer from the Paintshop Studio, onto a JCDecaux 96-sheet in London's Old Street.
Peter Hope, marketing director, Vauxhall UK, said: "The billboard is a great showcase for Vauxhall's Corsa Street Style competition. The level of entries proves the British public have a great affection for the Vauxhall Corsa, so we will look to extend our activity with this great car."
The next stage of the campaign is to seed the content created from the live event. Ben Walton, associate director at Carat, said the campaign was a "great example of how we have used paid and owned media to extend the lifespan of the campaign".
Walston said: "We know the new Corsa audience are very social, so this was a great way of engaging our audience, encouraging participation, and rewarding those that chose to engage with the app."
The live poster was commissioned by Aegis Media out-of-home agency Posterscope, in conjunction with Carat and JCDecaux.
Dominic Milan, planning manager at Hyperspace, the innovation division at Posterscope said: "For us this is a really nice example of user generated content, utilising assets from the digital space and bringing them to life in the real world."
Last year, Vauxhall featured the winner of another Facebook competition in a TV ad by DLKW, after inviting consumers to mock up photographs of themselves in a pop-art style.