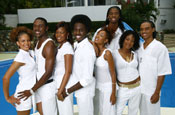 The deal, negotiated by Mediacom, will see EA Games promoting video game Boom Blox. The puzzle video game has been designed for Nintendo Wii and mobile devices and was developed by EA in conjunction with film director Steven Spielberg. The TV ad will target BET's young, urban-oriented audience.

BET first aired in the US in 1980 and now reaches 87 million households in the US, Canada and the Caribbean. The channel launched in the UK in February on the Sky satellite platform.

According to Barb figures for May, BET has a weekly reach of around 176,000 viewers.

Nick Bampton, managing director of VBS said BET UK is an "extremely valuable addition to the VBS stable of channel brands", providing a channel for ethnic audiences that are "poorly served by national media".