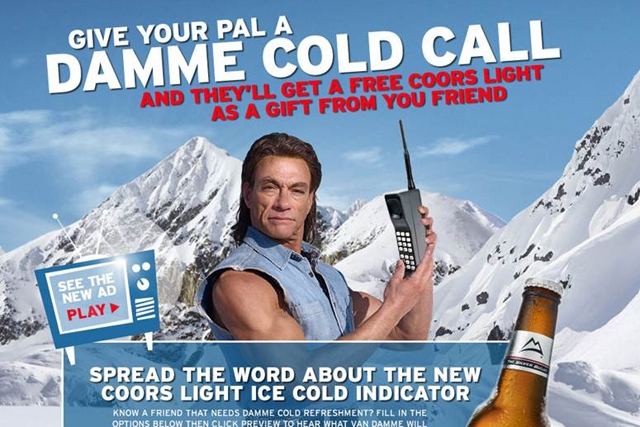 Following on from March's "closest to cold" TV spot, VCCP has launched its first major digital push in the form of a "cold caller" app that can be accessed via Facebook and the Coors Light website.
The app has been designed to spread the word about the ice-cold indicator introduced to Coors Light bottle labels back in March. It allows consumers to send a personalised "Damme cold call" from Van Damme (JCVD), to their friends.
Each message is crafted from a selection of pre-recorded phrases, including "chica", "pal" and "buttercup", an explanation of why he's calling (including not to "save him from angry bears") and a simile that describes how much "Coors makes JCVD's nipples freeze".
Once the call is completed, the recipient is sent a link to download a voucher for a free Coors Light four-pack at a local off-licence or supermarket, or for a free pint at participating pubs. There is also a prompt for the consumer to view the latest Coors Light TV spot online.
Previous digital activity has either been limited to a specific audience, such as last year's "Van Damme our uni's good" competition, which challenged students to make the biggest virtual Van Damne ice sculpture.
The brand also releases news, such as the release of the Coors Light game on Xbox Live or sneak peaks of upcoming ads to its online community via its Facebook page.
VCCP worked with activation agency Life and digital production company FastWebMedia on the app. The lead creatives were Mark Orbine, the VCCP executive creative director, and Jim Capp, the digital creative director.