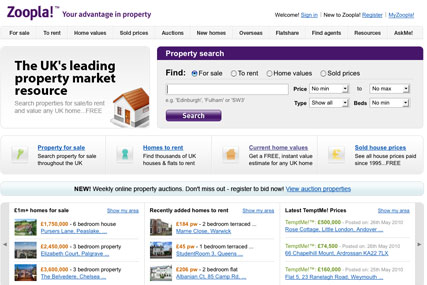 The property website is looking to capitalise on its rapid growth within the past 12 months, which has been driven through acquisitions of rival sites.
A spokesman for Zoopla.co.uk would not confirm the appointment of VCCP, but said: "We are in the process of appointing an agency to work on an above-the-line advertising campaign for later this year."
Albion, which was appointed to handle strategic branding activity earlier this year, has now resigned that account.
VCCP declined to comment.
Zoopla was launched in 2008 by Alex Chesterman and Simon Kain, the founders of LoveFilm, which was previously known as ScreenSelect. Zoopla hired Doug Monro as chief operating officer from Gumtree.com, where was managing director with previous positions at eBay and Unilever.
In July 2009, Zoopla acquired Thinkproperty.com from the Guardian Media Group. The following month it purchased the PropertyFinder Groups brands, Propertyfinder.com, HotProperty.co.uk and UKPropertyshop.co.uk from News International and Australia-based property website publisher REA Group.
Chesterman holds the positions of chairman and chief executive at Zoopla, which sits behind market leader Rightmove.