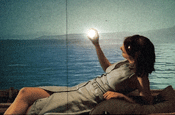 The O2 Bluebook campaign will span television, cinema, print and online media, and will also include an interactive promotion with the Metro newspaper.
The TV ad shows a woman collecting messages and photos and then storing them in a scrapbook of memories.
Michael Sugden, managing director at VCCP said: "Memories are one of our most cherished possessions, yet too often they are trapped on your mobile phone. O2 Bluebook can release them in an instant."
TV creditsProject name:
Blue book
Client:
O2
Brief:
To Launch new service
Creative agency:
VCCP
Agency Producer:
Laura Cooper
Copywriter:
Nathaniel White
Art director:
Ben Daly
Planner:
Bambos Neophyton
Media Agency:
Zenith OptimediaMedia planner: Jo Lunn
Media Spend:
£4.5 million
Production Company:
Bare Films
Director:
Aaron Bowen
Post-production:
Absolute Post Audio post-production: Wave
Exposure:
Heavy weight -All media