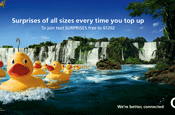 The push is part of a £5.5 million TV, poster and outdoor campaign promoting the extension of the company's Top Up Surprises offer.
Every time an 02 Pay & Go customer tops up their mobile they are given a code which allows them to play a game of hook a duck at www.02.co.uk/surprises and have the chance to win anything from free texts to LCD TVs and laptops.
The TV work shows the journey of the campaign's rubber ducks from the Antarctic to the Amazon and finally to a pond in the UK where they are hooked by a fisherman. The poster work also illustrates this journey.
The line across all media is: "Surprises of all sizes, every time you top up".