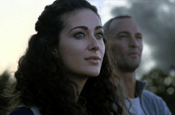 The agencies went head to head in a pitch last week and are expecting a result by the end of the month.

The successful agency will be briefed to produce advertising, direct marketing and digital campaigns for the specialist insurer.

In the past, Hiscox has used the integrated agency Inferno to produce its TV campaigns.

It is understood that the agency was knocked out of contention at an earlier stage.

Hiscox, which specialises in unusual forms of insurance such as kidnapping and ransom cover, previously relied on word-of-mouth marketing to promote its products.

However, in 2006, the insurer announced it was increasing its marketing spend from £400,000 to £10 million in a bid to raise its profile in the mainstream UK insurance market.

Two TV campaigns followed, including a spot that launched last year, shortly after the country was hit by flooding.

The tactical TV commercial highlighted that half of the payouts made by Hiscox would not be paid by a normal insurer.

The ad featured a couple standing out in the rain, watching a passing storm.

The pitch will not affect the media business which remains with Tri-Direct.