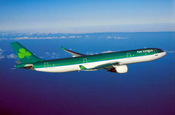 The work, which includes outdoor, press, radio and digital, focuses on the airline's low-cost flights to countries such as Malaga, Faro, Nice, Zurich, Munich and Vienna.

The poster shows a map of Europe with green lines with Shamrocks on the end emanating from Gatwick spreading out to the airline's destinations. TV work is set to follow the print campaign in the coming months.

Charmaine Duffy, the European marketing manager at Aer Lingus, said: "This is a great opportunity to grow our business and cater for a wider UK audience as we compete with leading UK low-cost airlines to key European destinations."



Click to enlarge