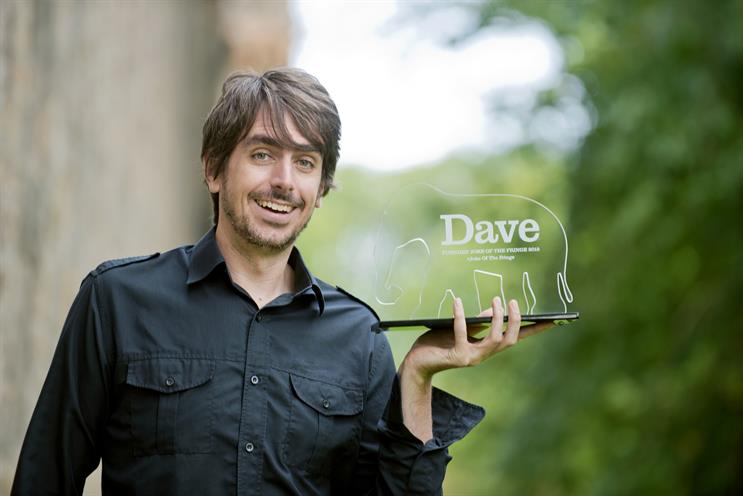 Darren Walsh, who specialises in puns, won the award with the joke: "I just deleted all the German names off my phone. It's Hans free."
Each year comedy channel Dave sends a team to Edinburgh to compile the best jokes from the Fringe festival and then polls around 2,000 people in order to find the winner. In 2014, Tim Vine won the competition.
Walsh's pun won with around 23 per cent of the vote, but the comedian says it's not his best joke.
"I don't think that it's one of my best," he says. "I like 'my cat is recovering from a massive stroke' or 'green men make me cross'."
Walsh has been performing comedy for around five years and has just begun doing it full time after freelancing as a digital designer for creative agencies.
His Fringe show, Punderbolt, is his first hour-long performance and intersperses puns with animated videos and audience participation.
He says his love of puns "developed naturally", adding: "they just pop into my head constantly. I'm on all the time like a fridge".
Walsh studied illustration and animation at university and then worked in publishing before setting himself up as a freelance digital designer. He most recently worked at Saatchi & Saatchi, AKA UK and VCCP, where he worked on the O2 account.
Asked about the process for devising puns, Walsh said: "You usualy hear the punch line first then work backwards. Some of them are good and some of them are bad. You try to filter the bad from the good and that's how you put a show together."
Another comedian, Pete Cunningham, told BBC Scotland yesterday (26 August) that he was the first to use the "Hans free" line in a joke dating back several years and that he mentioned it during a Twitter discussion with Walsh earlier this year.
A spokeswoman for Dave was quoted as saying that she was "entirely confident" the award had gone to the right person.