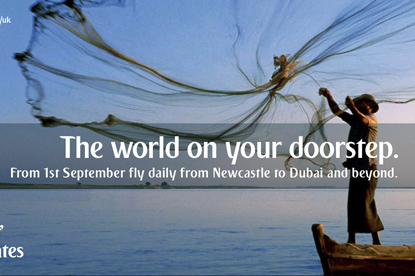 VCCP was asked to handle the business after its presentation to the airline as part of the £160 million global advertising account, which was put up for pitch in June.
Leagas Delaney, which has handled the UK account for five years, was not asked to defend the business and is not involved in the global review.
The airline spent around £3.5 million on advertising in the UK last year, the bulk of which was spent promoting its long-haul flights.
A recent campaign, which ran in 2008 across TV, press, outdoor, direct mail, radio and online, promoted its long-haul flights from Newcastle International Airport, using the line: "The world at your doorstep."
A spokesman admitted that the account had moved but said it had nothing to do with the global review.

He said: "We can confirm that Leagas Delaney is being replaced by VCCP. This is entirely unconnected with the pitch for a global marcomms agency. It is purely a UK appointment by Emirates."
This is the first time VCCP has worked for Emirates.

However, the VCCP Group-owned brand promotion specialist Branded Moments of Truth worked on a project for the airline three years ago, and Bell Pottinger, which is part of VCCP parent Chime, handles the airline's PR.