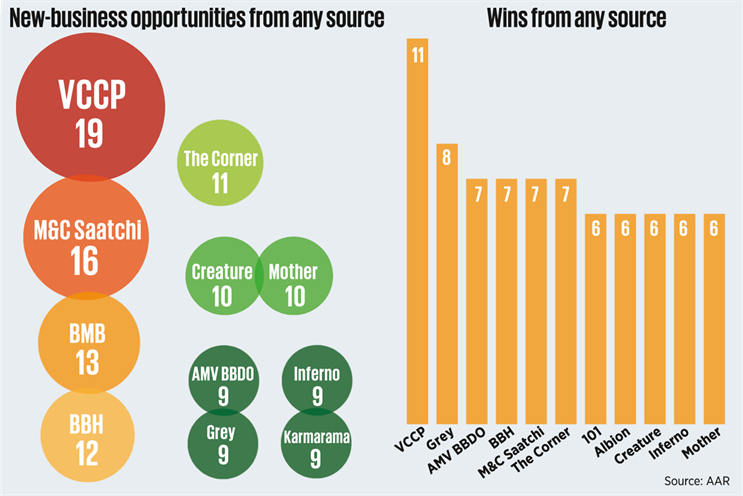 The Chime-owned shop topped three of the six tables that make up AAR's annual survey measuring how London ad agencies performed at winning business.
In 2013, VCCP had the most new-business opportunities at 19 and the highest number of open new-business opportunities – where the client had a choice of which agencies to invite to pitch rather than choosing agencies from a roster – at 16.
M&C Saatchi and BMB came second and third respectively in both tables.
VCCP also had the highest number of wins at 11.
Albion and Engine both had a 100 per cent pitch conversation rate. The two agencies undertook five pitches in 2013 – the minimum number required to be included in the AAR survey.
VCCP's pitch conversion rate was 66.6 per cent, ranking it joint tenth with JWT London and The Corner.
Martin Jones, a managing partner at AAR, said: "Looking at which agencies had the best conversion rates in 2013 leads to the conclusion that, when it comes to pitching, less is definitely more."
Atomic London won more new business without a formal pitch than any other agency with four accounts, followed by 101, which had three wins without pitching.
Abbott Mead Vickers BBDO was the most successful agency when it came to winning roster pitches – a category that included Crown Commercial Service briefs.
Results for the survey were compiled from the database at www.AARnewbizmoves.co.uk and corroborated by participating agencies. Only pitches that were reported in the trade press were included.
Details on digital and media pitches will be published in Campaign's School Reports issue on 20 March.