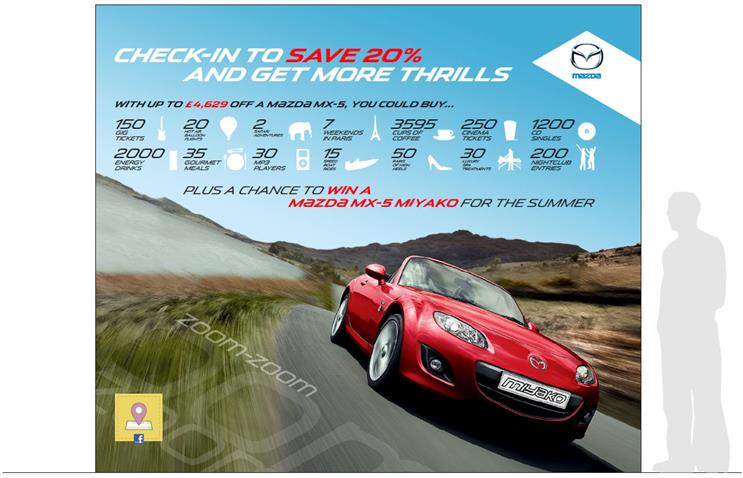 Facebook Deals' arrival in the UK last week was met with predictable fanfare. With a variety of brands, from Mazda to Boots, already signed up as partners, marketers are keenly watching to gauge the speed of user uptake and see whether there is meaningful substance beyond the style.
In the US, where Facebook Deals was rolled out last November, the social networking site claims that millions of consumers have used the service, while more than half of the participating brands have renewed their deals.
The service enables consumers to see which companies in their area are offering deals at that time, with the offer received when they 'check in' at the specific location.
Groupon and Foursquare are among the services to have whetted Britons' appetites for digital deals, but with Facebook comes a ready-made base of 26m UK users - and an instant platform for word-of-mouth marketing. As brands' Facebook pages gain more fans - often receiving more traffic than their own websites - Deals could be the bridge for moving that digital relationship into stores.
MY LY, MARKETING MANAGER, YO! SUSHI
It's great to be the first restaurant brand to sign up to Facebook Deals. Our customers are internet-savvy and won't have a problem with learning how it works. We are offering the first 1000 customers a free meal and drink and are sending it to our database of 300,000 customers.
The benefit for us is that we are going to be seen by a lot of Facebook users, including some people who don't know the brand.
So, it is about acquisition, but it is also about rewarding loyal customers. This is not a short-term deal for us, but we'll let the results decide that.
ADAM FIELD, HEAD OF SOCIAL MEDIA, MPG MEDIA CONTACTS
Some people might see it as a sell-out or 'spammy', as you are telling people you just got a Starbucks coffee only because it was free.
In the next few months more brands, particularly everyday brands, will start to use it. However, if Starbucks is doing it today, you won't see another coffee competitor doing it for at least a year. Big brands will want to be first to market so they can say they did it before their competitors and boost their community on Facebook.
It won't be an overnight success, but more brands will jump on the bandwagon as successful case studies come through.
I love the idea of being rewarded simply for telling my friends about a brand I am engaged with.
MATT KING, RESEARCH MANAGER, LEISURE, MEDIA AND TECHNOLOGY, MINTEL
I think the availability of these deals could be an important driver in getting over-35s to engage more with their smartphones.
In terms of a potential generation gap with Deals, there is still undoubtedly a youth bias in smartphone ownership, and use of social-networking websites via mobile.
But, with consumers still cautious about their finances, there remains a heightened interest in vouchers and discounts. Our research suggests that 35- to 54-year-olds are among the most likely to have increased their use of vouchers during the downturn.
This age group is less likely to make full use of features on their phones unless there is a compelling reason to do so - Facebook Deals could be that reason.
GAIL HANLON, MARKETING DIRECTOR, INTEL UK & IRELAND
Facebook Deals is a really exciting development for us and we are looking at the myriad ways in which we can use the platform to reach out to and surprise our consumers. We certainly find that younger consumers are more willing to provide personal details and broadcast what they are up to.
At Intel we are already looking at the potential to use Deals to distribute tickets to events at a localised level. While I am a big fan of Foursquare, it doesn't have the reach of Facebook. I believe that Facebook Deals will become a viable mass-market proposition within a year.
JAMES HARRIS, HEAD OF DIGITAL, EMEA, UM LONDON
We will see a lot of brands testing Facebook Deals to see whether it works for them, and I expect they will embrace it as a coupon. Smartphones have now reached a stage where it's far more viable to put a coupon in someone's hand. When Facebook Places launched, it didn't say what the intention was, but this is a natural progression.
This will pick up a lot of traction compared with something like Foursquare, which is used mostly by early adopters or people in marketing. Facebook will probably make a play for the bigger brands because of the scale and money.
Rather than have a negative effect on other offer sites, this will benefit the whole mobile market for location-based coupons.