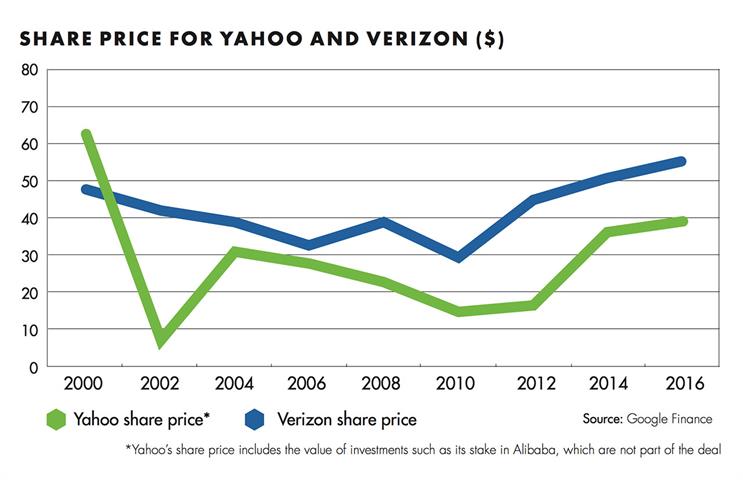 The $4.83bn (£3.68bn) deal ended years of speculation over the future of Yahoo's core internet business.
Chris Locke, UK managing director at VivaKi, said the merging of the sales houses could make the companies more confident about their offer as they fight for the digital media "bronze medal" behind Google and Facebook.
Verizon told Campaign it was too early to talk about operational plans, given that the acquisition is not expected to complete until the first quarter of 2017. Yahoo also declined to comment.
However, AOL chief executive Tim Armstrong has hinted that "collective synergies" from combining Verizon, AOL and Yahoo "will create a new powerful, competitive rival in mobile media and an open, scaled alternative offering for advertisers and publishers".
A combined sales house, similar to Microsoft's merging of its sales team with AOL's in June last year, would be welcomed by agencies, according to Richard Isaac, joint head of digital investment at MediaCom London. "Advertisers want to see better work and better campaigns. A one-stop shop will help deliver on that," he said.
Analysts are watching to see whether Verizon will use the combined assets to improve its digital content offering, as current digital ad revenues in the US for Verizon and Yahoo are still a long way from that of Google and Facebook.
The prospect of Verizon building a new media empire is intriguing. In addition to Yahoo and AOL, it has signed deals with video platforms such as AwesomenessTV and Complex. Last year, Verizon launched its own mobile video app, Go90, which offers short-form original content.
Locke said: "They [Yahoo and AOL] have access to everything an advertiser could want. It's just how they come to the market with it."
Ross Jenkins, global managing director at MullenLowe Mediahub, is sceptical that the Yahoo and AOL deal will threaten Google or Facebook's dominance. He said: "The problem with their content and data play is it is largely undifferentiated. The problems are they are not mobile first-companies and the ad-tech product is not as powerful as others."
As concerns over viewability and fraud continue to dog the digital ad industry, Marco Bertozzi, global chief revenue officer at Performics, believes Verizon has an opportunity to offer a more flexible and open approach.
Bertozzi said: "Google and Facebook have to answer more questions about the huge amount of advertising spend that goes into their business. The Verizon approach will be more flexible and they are more willing to sit down and listen to how to do things differently. That keeps everyone honest. And one billion user profiles is appealing to any advertiser."
There is also uncertainty over the future of the Yahoo and AOL brands. Chris Duncan, chief customer officer at News UK, said both the Yahoo and AOL brands were "rooted in a different internet era", but highlighted the modernity of AOL brand The Huffington Post and Yahoo-owned Tumblr.
Kristof Fahy, chief marketing officer at Ladbrokes and former vice-president for international marketing at Yahoo, said the Yahoo brand would likely be phased out: "It doesn't stand for anything in people's minds any more. This is despite Yahoo predating Google and pioneering internet use."
Marissa Mayer,
CEO, Yahoo
While the first year after Mayer joined from Google in 2012 was buoyed by optimism, her bold moves into social, video and mobile failed to turn Yahoo around. Mayer bought at least 53 businesses, including Tumblr for $1.1bn, but Yahoo's subsequent $230m write-down of that site was seen as a damning indictment of her wider strategy.
Tim Armstrong,
CEO, AOL
Like Mayer, Armstrong is a Google alumnus and the two overlapped there for several years – and reports suggest they do not get on. Armstrong replaced AOL chairman and chief executive Randy Falco in 2009, and his sale of the company to Verizon for $4.4bn in 2015 is widely considered a canny manoeuvre.