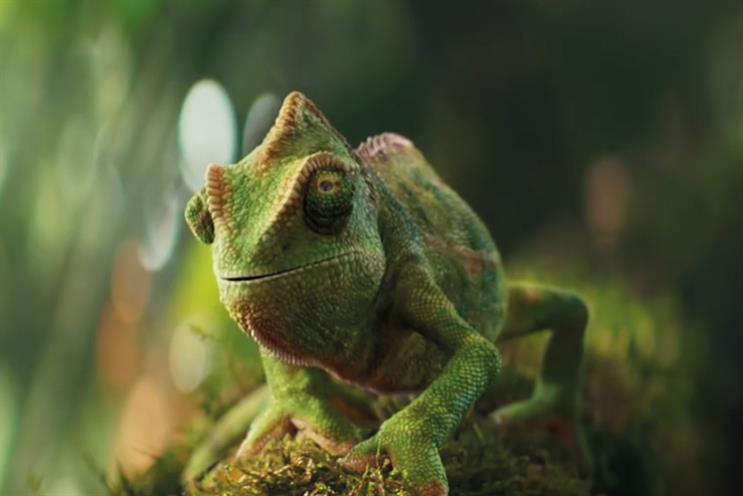 Tell us about the project. It started with a great script from J Walter Thompson. The original had one chameleon dancing with a few other jungle animals looking on, but we thought it would be funnier if it was just Roccy and his chameleon friends – I could visualise that from the start.
How long did it take to make? Two months, with MPC Creative involved in both the shoot and post-production. There was a fixed air date so we needed to move quickly. When it's this fast, there's no room for error, so a lot of the work was done using an animatic [an animated storyboard].
Talk us through the production process. The first month was really focused on preparation for the shoot, working with my director of photography and production designer. The storyboards evolved into a moving previsualisation that helps time out the shots and work out what angles and camera moves we needed. In parallel, the CG build of Roccy was happening. The edit was really important for me and we were lucky to have the music track signed off so we could cut to it. MPC had six weeks, so the post-production schedule had little room for error.
How do you make the animals look realistic? Creating Roccy involved painstaking artistry on every level. The detail of his skin has to be created scale by scale. We look at it from different angles and under different light conditions – that gives you the realism.
In terms of directing the animation, it's very easy for it to become cartoony so you have to be really careful not to be sympathetic to how the creature can move. For me, it's about striking a balance between giving him character but not overdoing it.
What was the biggest challenge? I wanted it to feel like an episode of Planet Earth that takes a mad twist and this required realism, not just from the chameleons but also the jungle, which we shot in a studio. It was important to establish this authentic look so, when we flipped it on its head, it delivered the most impact.
What is your next project? We just launched MPC Life: it's a new character and creature group within our global advertising team. It will focus on character-driven storytelling.