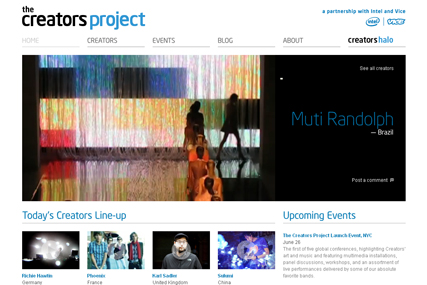 The 'Creators Project' aims to showcase musicians, artists and designers to a global audience and celebrate leading creative artists who incorporate technology in their work that will culminate in five international exhibitions.
The multi-year project starts with the launch of its portal website CreatorsProject.com, allowing visitors to watch interviews with the artists involved in the programme showcasing how they use technology in their work.
As well as established names, the artists include the "next generation of innovators" such as Brazil's Muti Randolph, China's Peng Lei, the UK's United Visual Artists and the USA's Radical Friend.
"We're watching a new generation of creative geniuses come into their own - artists who use technology tools as their paintbrushes, musical instruments, sculpting knives and sketchbooks," said Deborah Conrad, chief marketing officer at Intel.
"For them, computers are as pervasive as pencils. The Creators Project is where these worlds of art and technology collide."
The portal serves a purpose as a media channel as well as a platform to disseminate work between the artists.
"All too often our most talented artists struggle to showcase their work. This project is designed to empower this next generation of artists by levelling the playing field," said Mark Ronson, associate creator.
The project will be highlighted in five global Creators Conference exhibitions that will culminate in showcases, film screenings and panel discussions in New York, London, Sao Paulo, Seoul and Beijing.
"We're lucky to have a backstage pass to the most exciting uses of technology and the artists that inspire us by how they harness technology's power and potential to explore," said Conrad.
"Thankfully, VICE wanted to give everyone a front row seat to all of these incredible artists, and they had the guts and talent to do just that."