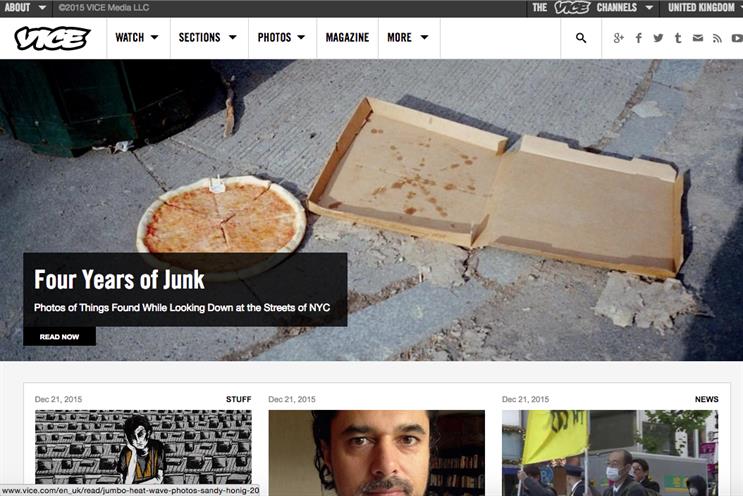 Vice UK's newly published annual accounts showed for the first time how the share price has leapt from £1,096 on 31 July 2011 to £4,203 on 31 March 2014 and £9,752 on 31 October 2014.
The surging valuation will have meant a huge profit for early investors such as WPP, which bought a 10 per cent stake in April 2011.
Vice UK said staff who are part of a long-term incentive programme have been granted "up to an aggregate maximum of 26,648 shares", according the accounts.
These options are potentially worth £259.9 million at last year's price of £9,752 per share.
Employees usually buy options at a certain price – known as the exercise price – and pocket the difference at a later date, so long as the share price has risen. In the case of Vice UK, the exercise price for some of the options ranges between £1,096 and £4,203.
However, it is highly unlikely that staff will receive all those shares because some of the options will lapse, depending on financial performance and whether staff members stay with the company.
Vice, which was cofounded as an edgy style magazine by Shane Smith in Canada in 1994, has become a media darling as it has expanded in online video and brand partnerships aimed at millennials aged under 35.
Vice's share price is likely to have risen further since October 2014 because of investor demand, with Disney doubling its stake to 10 per cent earlier this month, at a valuation of about $4.5 billion.
WPP bought 10 per cent of Vice for $35 million in 2011, although it would have seen a tenfold increase in the value of its holding it has fallen slightly to 8.4 per cent because of dilution.
Vice UK forecasts turnover will double to £100 million in 2015.
A spokesman pointed out that staff employed by Vice UK included international staff, and the share option scheme is part of a "broader global equity programme for Vice staff internationally, not just UK and Europe".