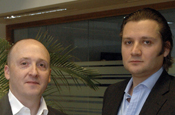 In the newly created positions, Vick, the group business director on Nestlé, Vodafone and De Beers, and Petyan, the global business director for HSBC, will take joint responsibility for the leadership of the UK ad agency.

The pair will report to the new UK chief executive once that position is filled.

Burns returned to the US this month to take up the role of global client services director at JWT New York.

It is believed that her replacement's responsibilities could run across both JWT and the direct marketing agency RMG Connect, which it took full ownership of last August.

Vick, the former managing director of Freud and its former incarnation DFGW, joined JWT London last July. Petyan has worked at JWT since 1997, when he joined the agency as a graduate trainee.

Toby Hoare, the chairman and chief executive of JWT Europe, said: "It is a luxury to be able to combine the very best of JWT's own talent in Joe, with the experience and expertise Tom brings from his years in the business."

Separately, the agency has won the £6 million Patak's business for the UK, North America and Australasia from TBWA\Manchester.