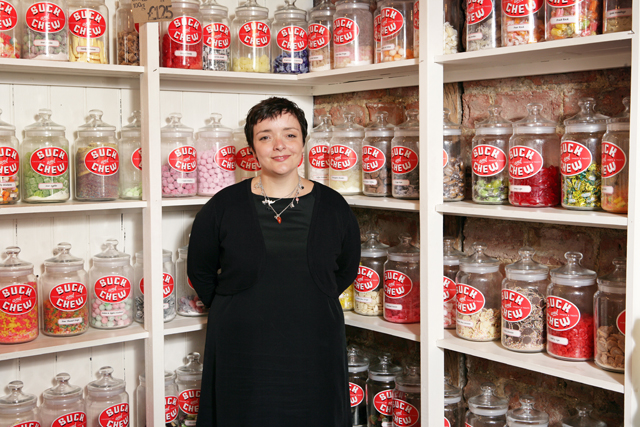 What gave you the inspiration to set up a sweet shop?
For as long as I can remember I've always had some kind of business on the go. I funded my way through college by selling vintage clothes.
I love sweets and I love shopping and I've lived in the East End since I came to London. I love the patter and the banter you get in small independent shops so I thought, 'why not!' If it doesn't work I can close the doors and eat the stock.
How do you find the time to balance two career projects?
The shops on Columbia Road only open at the weekend for the flower market. Grey is also very supportive, I get all kind of tat delivered to the office and if the young teams have any downtime they can design me a poster. It does eat in to your social life but people always know where to find me on a Sunday.
How does your life as a sweet shop owner inspire other aspects of your life and work?
Seriously, working on the shop floor gets me closer to the customer than any focus group or research debrief ever can. Paul Smith the designer was my mentor at college and he was always working in his shops, chatting to punters, handling the stock. Even now if I'm working on an account I'll always volunteer to work on the till or in the factory for a day.
What is your sweet shop dream? Do you want to open more, for instance?
Last year I wanted to open a pop up shop in NY only all my stock was seized at customs (I think they thought my sherbet fountains looked a bit iffy), so I don't have big plans for world domination. A couple of stores. A book. My own brand of toffee perhaps…
What is the best thing about owning a sweet shop?
Eating the profits. I've been open six years and changed four dress sizes.
---
Vicki Maguire is an ambassador for The Biggr Picture and will be judging the entries. She is a deputy executive creative director at Grey London, and owns Suck and Chew on Columbia Road.

For more inspiration and to see more of our judges' Biggr Pictures visit our Flickr 'The Biggr Picture' gallery.