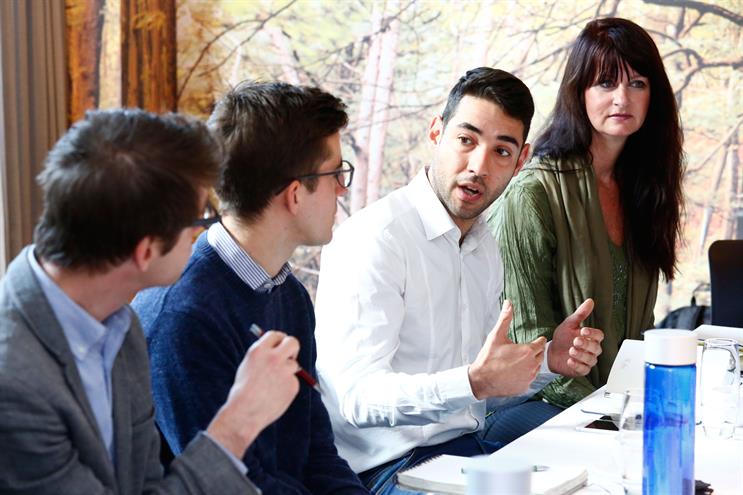 Brace yourselves, opticians of the UK. Latest IAB figures show that we are all, on average, spending an hour and 35 minutes of our day scrolling through the internet on tablets or smartphones (more than half of the two hours 51 minutes we spend in total online each day).
So it should have come as no surprise that the latest of the Brand Republic Sessions early last month was a busy morning of eager marketers hearing how they might create the next 'Epic Split'.
The fact that a vast amount of online videos are now watched on small screens, rather than desktop, was a key learning for marketers, who were advised by Justin Taylor, UK managing director at the inventor of video outstream, Teads, to "plan for mobile first when creating campaigns, including video. Don't think you can run the same creative for every screen".
Justin advised marketers to consider that content is scrolled on mobile around five times faster than on desktop, as well as the context of how and when the video is seen on mobile.
Many of the speakers referred to the necessity of trying to communicate an emotional truth in a video as a way of drawing in the viewer. "It's not enough that it looks fantastic," said Kim De Ruiter, senior manager marketing at Samsung Europe. "It needs to strike a chord, fit a mood".
This was illustrated by fellow speaker Annalisa Gentili, head of social strategy at AMV BBDO, talking about the ad that her agency created for client Sainsbury's for Christmas last year. It featured the story of Allied World War I soldiers climbing out of their trenches for a game of football with German soldiers, concluding with a British soldier giving a bar of chocolate to his German adversary.
Annalisa said the team came up with the idea as a way of giving viewers a lift in the midst of so much bad news at the time. "It all started with thinking about the mood of the nation and how we could give people a positive message," she added. "It gave people a chance to think about what Christmas meant to them and talk about it." Although the ad received 727 complaints to the ASA on the grounds of taste, it was not, in the end, investigated by the regulator.
Kate Dale, strategic lead, brand and digital at Sport England, talked of the value of audience research to determine the kinds of messages that would resonate with viewers. In the early stages of planning for what became the 'This Girl Can campaign', Sport England did extensive research to discover what was putting women and girls off sport. They found that unrealistic images in the media of women generally, and sporty women in particular, meant they were afraid of being judged.
"Women worried that they'd look sweaty or 'butch', or be judged for spending time away from their family or work/studies. This then became our central message – liberating women from the judgements (often their own) that held them back when considering sport."
An array of broadcast executions followed, both online and on TV and cinema, showing women relishing their exercise. Online videos were designed with mobile in mind – short, snappy versions that complemented the longer TV and cinema ads.
Participants were cast from the street, which aided the social-media support around the campaign because these women were happy to join in. Kate's team also enlisted plenty of social-media advocacy from high-profile women such as Clare Balding and Caitlin Moran.
'This Girl Can' was a huge success. It has attracted 36m views to date, and initial post-campaign research shows that 60% of women who have seen the campaign have taken action as a result.
But James Drake, community manager at motoring site PistonHeads, also cautioned marketers to remember that experimentation is the name of the game when you're new to creating online video.
PistonHeads began creating short films this year to keep users on the site for longer. But, said James, early attempts had to be scrapped and re-thought once the team realised "we were trying to be something we weren't". He continued: "We'd created a format showing guys in a pub chatting about cars. It just wasn't funny enough. We realised we had to play to our strength, so we switched the focus away from the presenters and onto the cars. You have to accept that if you're starting out, you'll probably get it wrong at the start. Be prepared to learn from your early mistakes".
James also pointed to the importance of making sure that as well as having high production values, films are affordable and replicable. He referred to Top Gear's 'Star in a reasonably priced car' as a great example of a replicable format.
Creating a video is only half the job. Getting it distributed effectively is also crucial, whether this is via paid-for spots or through social media or organic search. Annalisa believes that there are "only two reasons people share videos – either it's funny or it makes you look good, perhaps because you're the first to find something you know will be popular. Just ask yourself – would I share this?"
Kate credited social-media support as being a major contributor behind the success of the campaign. Her team welcomed consumers producing their own versions of 'This Girl Can', although they couldn't share anything that included pre-recorded music (see box). "This was a very conversational campaign so the more we could encourage that feeling of everyone getting involved and sharing their own take on the subject, the better," she explained.
Despite all the advice that was given, each speaker acknowledged the occasionally random nature of an online video hit. "Our most-viewed video is currently one created by a user, just showing his feet pressing a car's pedals. Even the people posting comments underneath aren't quite sure why it's so popular," said James.
Justin brought the session to a close, concluding the morning discussions surrounding eyeballs to emotional connections. He discussed how the media landscape is transforming; the industry is increasingly finding itself trying to keep apace of the next big trend. User habits are shifting, the traditional ways of consuming media are becoming less relevant.
Justin wrapped up with his three key take-aways to a successful video campaign:
1. Think cross-screen We are consuming media across a multitude of devices, with mobile leading the way. The key to increase share of voice in this crowded environment is to truly understand your audience.
2. Be viewable Video is about engaging, not enraging. Champion 100% viewability and seriously consider the opt-in approach versus forced.
3. Engage, don't enrage With the recent rise of ad blocker technology, as providers we need to ensure relevant, uninvasive, premium content is available.
Insider tips
- Getting the right music track can massively boost your video's appeal (think Missy Elliott's catchy Get Ur Freak On and how well it supports the message of Sport England's 'This Girl Can'). But remember that you must pay for a music licence. This also applies if you want to broadcast consumer-created videos that they have chosen to back with music not written by them. Check www.prsformusic.com for more details.
- If you're planning to broadcast lots of videos, consider commissioning a specialist to create your own hosting platform to maximise ad revenue.
- When promoting a video on social media, create a hashtag that chimes with the emotion you are tapping into; for example, #goodtobebad (Jaguar) or #thisgirlcan (Sport England). It's much more likely to be referenced by consumers than a brand name.
- Check (or get your media agency to check) the viewability of your videos on the sites that will host them. Standard industry definitions of viewability are that just 50% of a video can be seen for two seconds.