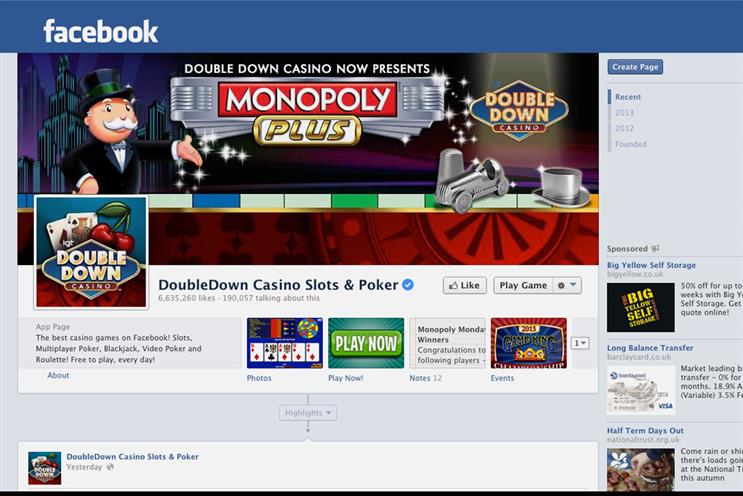 Last week, Facebook launched a service allowing video creative to be used in mobile app ads for the first time.
The social network is looking to ramp up the use of video in its mobile advertising. Advertisers can already run their own video creative through Facebook ads on desktop and mobile – some use TV ads, others prepare specific content. But the site is looking for ways to make this a bigger part of the Facebook advertising offer as video is seen as a huge growth opportunity.
Mobile App Ads for Installs allows brands to advertise their apps in news feeds so users can download them from Apple's App Store and Google Play while still on Facebook. Up until now, these ads have used static pictures, but introducing video should boost the service.
According to Facebook, DoubleDown Casino, which has used the video ads, has increased the number of apps downloaded and reduced the cost for each install.
There is also a new way to pay for the ads. The cost per click has been supplemented with a cost-per-action metric, which is claimed to allow marketers to better manage budgets while benefiting from optimised ad delivery.
Facebook's Developer Blog says video creative is an "effective way to drive engagement in news feed", but it's notable that the videos do not automatically start playing in a user's news feed. Plans to launch "auto-play" video ads are believed to have been shelved after a trial on posts of individuals, musicians and brands proved unpopular.
A Facebook spokesman says: "We're always iterating on how to make the best tools available to advertisers, and that's especially true when it comes to creative ways to engage people."
Henry Arkell, the social advertising director at Manning Gottlieb OMD, says users saw the auto-play service as an intrusion in what they consider a very personal space, even if the video is played without sound. He adds that the video service is "extremely strong, offering a great entry point for advertisers".
A quarter of all mobile internet time is spent on Facebook, Arkell says, and one campaign ran by the agency reached 13 million users – twice the readership of The Sun. "It's the world's largest CRM database," he says.
Meanwhile, Justin Taylor, the managing director of mobile at MEC, notes that one drawback is that it could be expensive for users as it eats into their data costs.
In addition, he believes the question mark over auto-play ads could be a commercial setback for Facebook. It is understood that the social network had attracted strong buy-in from advertisers for the launch of auto-play ads and was selling 15-second slots for between $1 million and $2.5 million. The arrival of video ads that need clicking will not be quite so compelling but welcome nonetheless. Taylor notes: "Mobile ads are more effective than desktop ads – not necessarily from a return on investment view, but in terms of recall, response and engagement."
As Facebook continues to develop its video ads, the balancing act will be in ensuring the ads maintain creative standards and are compelling enough to be noticed but do not detract too much from the overall user experience.