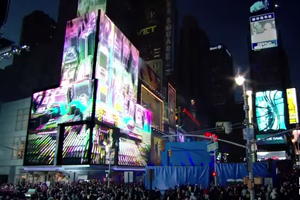 The New York office of London-based Mission created a huge LED display on a building and took over nine of the square's iconic electronic screens.
Tens of thousands of people watched the CGI display which was the result of 5,000 hours of work by dozens of visual artists and appeared to make electricity and 60ft waves cascade down one of the square's buildings.
Pop star Nicki Minaj introduced the show with a medley from her new album Pink Friday: Roman Reloaded, while dancers performed in the crowd and the big screens screens showed shots of the DJ and the audience reaction.
The screens were controlled from a mobile server fed by eight miles of cable spread over four blocks of the city.
In November 2011, Mission worked with Nokia and Drive Productions to create a 4D light show on London's Millbank Tower for the launch of the Lumia 800 smartphone.
To leave a comment register and let us know your thoughts.
For more in-depth industry features, showcases and interviews with world-leading brands, don't miss the next issue of Event magazine by subscribing here.
Tweet