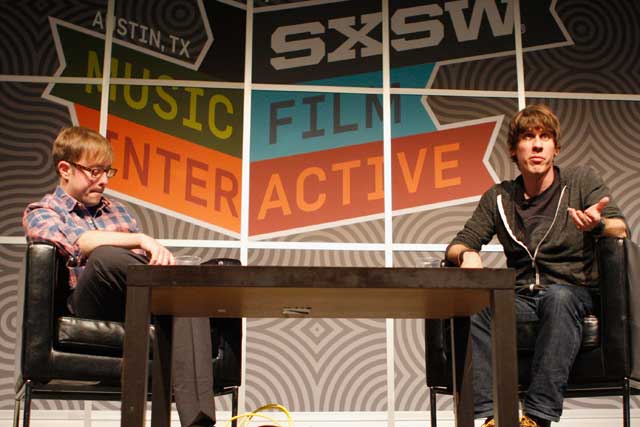 First, the sheer amount of information coming out of Austin, Texas is enough to make even the geekiest grown man feel a bit overwhelmed. Second, the inappropriate resentment that you start to feel against the folk you decided should head off to Austin while "you" get to listen from East London builds as the event progresses.
But let's put my neurosis to one side. SXSW was clearly another big year in terms of learning stuff and watching new products and trends emerge from the crowd.
It was also great to see a bunch of agencies not just attending but shopping products and ideas too. Our Albion team went out there with an ultra-useful lists app that we wanted to test-drive and two other agency products broke through the noise.
Picle, an audio-video app by Made by Many, got a lot of chatter. Picle records ten seconds of audio with any photo that you take. It was quickly picked up by Forbes and Cult of Mac, among others.
Bartle Bogle Hegarty New York launched its riff on the "street newspaper" model with homeless hotspots, which allows homeless people to sell 4G Wi-Fi access. What was obviously a well-meaning enterprise kind of backfired, drawing criticism from as far afield as the Daily Mail and The New York Times - possibly due to a badly written piece of copy on T-shirts worn by the participants that proclaimed "I'm a 4G hotspot".
And, as ever, there were some amazing talks and panels. Our guys on the ground raved about the Monday keynote talk by Ray Kurzweil that demonstrated the remarkable predictability of technological advances. He predicted that SXSW Interactive attendance figures seem to follow a steeper curve than Moore's law, which means, in March 2023, SXSW should reach a singularity where every human being on the planet is in the Austin Convention Center.
SXSW is still one of the few places on the planet where you have the opportunity to see somebody controlling a quadrocopter with his body using a hacked Microsoft Kinect at 11am, then walk less than 100 metres and sit down to hear Kevin Smith lovingly tell an audience they're all going to die screaming. It's a place where Professor David Robertson's talk on rebuilding Lego causes a queue to form down the stairs and out the door of the InterContinental hotel, and that same group of people have their imagination captured in such a way by what would seem like bland and indigestible stats in any other situation that a standing ovation is the only real way to show their gratitude.
SXSW is not just about the panels, though. With around 30,000 of the world's brightest all gathering in one city, it's hard not to bump into, get chatting with and form long-lasting business relationships with some amazing people. This is, without a doubt, the most important date in the zeitgeist calendar.
Important themes tend to emerge at SXSW. A few years ago, the rise of social networks was dominating not only the panels but also conversations in the hallways. A couple of years later, it was social activism. Every year, start-ups launch products and services at SXSW in the hope that theirs will become this year's breakthrough and, usually, it's pretty easy to spot which one it's going to be.
Last year, group messaging was the big theme, with Beluga - promptly bought by Facebook and turned into Facebook Messenger - leading the pack. Previous standouts have almost always been apps that happen to be useful at SXSW: Twitter, Brightkite, Beluga and Foursquare all got big in Austin. This year, there were so many products launching and fighting for attention that it was pretty much impossible to spot any winners. Launching at SXSW is becoming a longer shot than playing the lottery.
The concern here is that, as SXSW grows and the winning ticket mentality continues to be propagated in the minds of the venture capitals and start-up folk, the more diluted the offerings seem to be. There can't be a Twitter every year - it's just not feasible - but the offerings seem to have been meagre at best and range from apps that find stuff near you and apps that send stuff for you to apps that don't seem to do much at all other than aggregate data already available elsewhere. The trend for existing API-based solutions is fine, but I've yet to see anyone here doing anything particularly original that isn't stuck behind a Facebook sign on screen. Perhaps the really great ideas are being bought before they gain traction and visibility in the marketplace. If not, I think we need to take a long, hard look at ourselves and ask what exactly it is we're making and for whom.
The conference drew to an end on a high note, as an unusually happy Bruce Sterling, the author and futurist, delivered his traditional closing monologue. Always insightful and inspiring, previous talks have tended to focus on the negative while exhorting the roomful of technical talent to find ways to fix the world. This year's talk gave a picture of our children looking back on SXSW 2012, feeling envious of how we were living through an epoch of digital change where we actually had the ability to shape the future.
Jason Goodman is the chief executive of Albion.