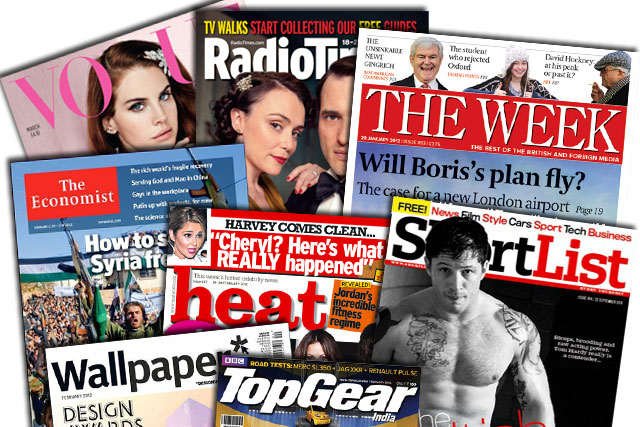 The general decline of print circulations in the UK has been well-documented, but magazines continue to represent big business, with ZenithOptimedia expecting the print side of the industry to continue to command more than £800m in advertising this year.
But transition is clearly in the air. The PPA's marketing director, James Papworth, has provided a timely reminder of the UK's love affair with magazines, "the second most magazine-friendly country among the G8 nations", nonetheless, but increasingly the business is about how quickly individual publishers can convert their old readers, and print advertisers, onto digital platforms.

The repositioning of magazines as multimedia brands has been reflected in the restructuring of sales forces up and down the country, most recently at Bauer Media.
The role media agencies can play as brand advocates during this transition period could be crucial, with many press specialists already recognising the increasing dwell times seen on many tablet editions. Whether this can be attributed to tech novelty or better engagement remains to be seen.
The ABC body, to its credit, is also trying to adapt to the evolving landscape, the pace of which has never been seen before. Its latest audit featured almost 100,000 digital edition sales for 72 brands.
This figure is only set to rise, boosted by the launch of Apple's Newsstand in October, and the tech company selling a further 15 million iPads, and 37 million iPhones, during its last quarter.
Of course, the auditor remains too sluggish and too inflexible for some, with particular concern emanating from Dennis Publishing and The Economist. The auditors will have to try and address such concerns as quickly and as best it can, as the relevancy of its biannual audits depend on it.
IPC Media
Sylvia Auton, chairman and CEO
Magazines: 64
Total average circ: 6,251,817 (down 4.7% yoy)
Websites: 50+
E-editions: 27
Top Twitter: Wallpaper* (592,208)
Facebook 'likes': NME (169,815)

"I'm delighted by IPC's performance in this ABC period. Conditions have been challenging but a number of our brands have shown great resilience and posted strong results. I am pleased that we are once again the UK's leading magazine publisher by both value and volume.
"Some of our most iconic titles including Marie Claire, Woman's Weekly and Country Life posted circulation increases during this period and our stable of more specialist hobby- focused titles such as Rugby World and Amateur Gardening also performed well.
"I am also delighted by Golf Monthly, which was the star performer within our Inspire portfolio, taking market leadership of the Golf sector in its centenary year, as well as posting the biggest year-on-year growth since 2008.

"We continue to extend the reach of our brands to engage with consumers across a variety of platforms including live events, apps, websites and tablet editions. As well as launching websites for our print brands we have also launched print extensions of our online brands, such as Trusted Reviews and GoodtoKnow Recipes which posted a period-on-period ABC increase of 8.4%. This month we launched Marie Claire Runway, as a print edition, web channel and as an optimised iPad app.
"We also continue to launch new products into key sectors to capitalise on market opportunities. A very recent example of this is Style At Home, which continues to grow in popularity, and offers stylish, affordable ideas in an attractive editorial package.

"IPC Media remains committed to providing our advertising partners best-in-class audience insight and a range of compelling and creative ways to reach our audiences."
Immediate Media
Tom Bureau, CEO
Magazines: 51
Total average circ: 3,354,226
(up 0.2% yoy)
Websites: 34
E-editions All on Zinio, 2 iPad (Good Food, Focus)
Top Twitter: Top Gear (397, 791), Good Food (47,706), Radio Times (16,138)
Facebook 'likes': Top Gear
(10, 430,230), Good Food (60,000), Radio Times (15,062)

"We are extremely pleased at having posted growth across our portfolio, at a time when any growth is clearly hard to come by. This is doubly the case when considering the distractions to senior management as we formed Immediate Media Co during this period, and all the work on integrating the three companies. To show growth really is a testament to the power of our brands and the high quality of our people.

"Our strategy is about developing strong brands that connect to consumers on a variety of platforms. We have a very exciting cross-media, and technology-led development plan, which is underpinned by a stable, growing magazine business. When you add to this our rapid growth in web, tablet and ecommerce, we are looking at the future with great confidence and excitement."
Hearst Magazines UK

Arnaud de Puyfontaine, CEO
Magazines: 22
Total average circ: 3,580,313
(down 6.2% yoy)
Websites: 21
E-editions: 19 core, 12 specials
Top Twitter: Elle (289,259), Cosmopolitan (69,381), Sugarscape (69,118)
Facebook 'likes': Elle (132,965), Sugarscape (53,246), Digital Spy (37,813)

"Hearst Magazines UK offers premium and trusted editorial content to millions of UK readers through our printed magazines. Our success with digital editions, especially in regards to Cosmopolitan and Men's Health, demonstrates a rapidly growing demand for our brands through emerging digital channels. Embracing this clear consumer appetite for digital editions on mobile and tablet enables us to reach new audiences and deliver on our commitment to offer our consumers access to our content on the platform of their choice, in the format of their choice at their convenience.

"We are focused on developing our core brands like Good Housekeeping, which recorded a 4.2% increase period on period in the latest ABCs, pushing it ahead of rival titles. The opportunity for our business is the development of 'eco-systems' around our print brands that offer our audiences even more opportunities to interact with the content they love and trust – be it through print, online, mobile, events, apps or digital editions.

"Our magazines are at the heart of our business as they underpin the relationship we have with our readers. Our clients and their agencies are looking for 360 degree responses to their brand marketing objectives and we are in a position to deliver that to them.

"All of this, coupled with an enviable reach (our brands reach 16 million UK adults and 20 million adults online) and intensive research into our audiences' needs and desires, is what makes us one of the most diverse and agile media companies in Britain today."
Condé Nast

Nicholas Coleridge, managing director
Magazines: 13 consumer (7 contract)
Total average circ: 1,508,659
(down 3.7% yoy)
Websites: 12
E-editions: 13 Zinio, 5 iPad
Top Twitter: Wired (1,256,501), Vogue UK (463,037), Vogue US (1,137,822), Glamour (78,826)
Facebook 'likes': Vogue (2,211,018), Glamour (564,007)

"Print is proving to be remarkably resilient at the luxury end, confounding the doom-mongers. In addition, the iPad and other tablet devices are offering exciting routes to market which is proving popular with our upmarket readership, in particular for GQ, Wired and also Vanity Fair.
"Our combined print and digital ABC figures indicate that quality journalism remains in demand, and we're in good shape for the many opportunities which lie ahead."
Northern & Shell
Stan Myerson, group joint managing director
Magazines: 3
Total average circ: 1,258,813
(down 12.8% yoy)
Websites: 3
E-editions:
Top Twitter: OK! (215,896)
Facebook 'likes': OK! (64,615)

"Northern & Shell is the UK's leading publisher of celebrity magazines, with over 1.25 million copies sold each week. Our titles have all performed well in a difficult marketplace.

"We have big plans for our titles going forward, with exclusive coverage for many celebrity weddings in 2012 as well as commemorative issues for the royal anniversaries in April (the Duke & Duchess of Cambridge's one year anniversary) and June (the Queen's Diamond Jubilee editions)."
Bauer Media
Paul Keenan, CEO
Magazines: 63
Total average circ: 3,241,907
(down 9.2% yoy)
Websites: 32
E-editions: 4 iPad / 3 iPhone / 2 e-zines
Top Twitter: Heat (261,538), Kerrang (188,685), Grazia (96,788)
Facebook 'likes': Kerrang! (158,620), More (121,924), Heat (101,781)

"It's a changing landscape in the publishing world, and I see the market dividing into those who are leading on price discounting and promotional offers, and those who are leading on product.
"We take a long term view with consistent focus and investment in our products and brands, and this has seen our reach and influence continue to grow.
"We deliver world-class magazines to millions of readers and these ABC results again recognise the efforts and skill of talented editorial teams. Heat, Closer and Grazia continue to significantly outperform the market thanks to their quality editorial. In the second half of 2011 we have been backing this up with significant investment in above-the-line media across our key brands.
"This week will see another above-the-line campaign breaking with Grazia's outdoor campaign starting on 20 February.
"Moving forward, in these early days, tablet editions have all been about learning and experimentation. Over the next three to four years I can imagine the tablet market will become a really interesting distribution platform. As publishers, we need to leverage the capabilities of the devices and to selectively use rich media to produce a better experience."
Shortlist Media
Mike Soutar, CEO
Magazines: 2
Total average circ: 955,393
(up 1.0% yoy)
Websites: 2
E-editions: 1 (Emerald Street)
Top Twitter: Stylist (61,158)
Facebook 'likes': Stylist (18,195)

"We anticipate continued market share growth across all of our platforms over the next year; more readers in print, and more users digitally across web and email. Our digital reach has multiplied by a factor of 10 in 2011, and we are seeing a high rate of growth so far this year too.
"Revenues will grow too. Visibility remains limited across the market - January in particular was a challenge - but we've already seen demand building for key months later in the year and forward bookings are ahead of this point year on year (we even have a campaign already booked for November 2012 which is a first for our business).
"Our business – now in its fifth year - is built on distinctive brands reaching valuable audiences through unique routes to market. Our success has been based on quality editorial content and delivering innovative solutions for advertisers. We see further market opportunities for our existing portfolio and beyond - in print, digital and international markets."
Dennis Publishing
James Tye, CEO
Magazines: 20
Total average circ: 766,034
(down 7.1% yoy)
Websites: 35
E-editions: 20 digital, 4 iPad
Top Twitter: Viz (31,829)
Facebook 'likes': Men's Fitness (51,563), The Week (29,864)

"I'm delighted that a number of our titles have once again shown strong growth in a challenging print market. The Week especially stands out for growing its presence across multiple platforms.

"As an industry, it is clear that the majority of magazines are under increasing pressure for print sales, especially on the physical newsstand. Dennis Publishing is a company that has successfully migrated to this digital reality: 50% of our advertising revenues now come from our digital properties and the Apple Newsstand accounted for over a £1million pounds worth of sales in the last 6 months.

"Is it just me, or are these ABC figures becoming less relevant to us an industry? For instance, evo would have shown a significant ABC increase if we could have included the 6,000 iPad subscribers we have, let alone the 300,000 individual downloads we have seen. The current ABC rules seem to make it extremely hard for us to include this large and influential audience in our circulation audits. This problem will only grow going forward; we need to be more agile in the way we measure and report on audience otherwise we are not giving our advertisers the complete picture."
H Bauer UK

David Goodchild, MD
Magazines: 35
Total average circ: 2,854,452
(down 3.9% yoy)
Websites: 10
E-editions: 0
Top Twitter: TVChoice (1,877)
Facebook 'likes':

"H Bauer has again delivered a strong set of ABC results, proving that in times of economic uncertainty the strength of a magazine's editorial proposition is key to its success at the newsstand.
"TVChoice is enjoying its ninth consecutive period as Britain's best-selling magazine, Take a Break, already the number one women's weekly, has increased its share in the true life market and Bella has gained further ground on its competitors in the classic women's weekly market. H Bauer's strength remains in its unfaltering focus on delivering best in class in all of its markets."
The Economist UK

Andrew Rashbass, group CEO
Magazines: 6 (global)
Total average circ: 1,487,010
(up 0.9% yoy)
Websites: 1
E-editions: 1
Top Twitter: TheEconomist (1,620,591)
Facebook 'likes': 958,607

"It took us 160 years to reach one million circulation, but only seven years to reach one and a half million. We now expect to reach two million within five years, fuelled by rapid growth in digital circulation. By then we expect to have more digital than print readers.

"Although our print circulation continues to rise, at some point in the near future it will go down as more and more of our customers choose to read us on a tablet or e-reader. We're relaxed about that because we are discovering great opportunities in digital having already reached a digital-only circulation of more than 100,000. Over 75% of these readers are new to us and 12% had previously given up their print subscription. We are seeing that our digital readers are finding new times to read and immerse themselves in a truly lean-back reading experience.
"At the moment the ABC figures only tell part of a print story. ABCs were designed to give an audited number for advertisers, but if you're not carrying the same editorial or advertising in print and digital editions, then what two numbers are joining together?"
*E-editions as defined by publishers
Follow Arif Durrani on Twitter: @DurraniMix