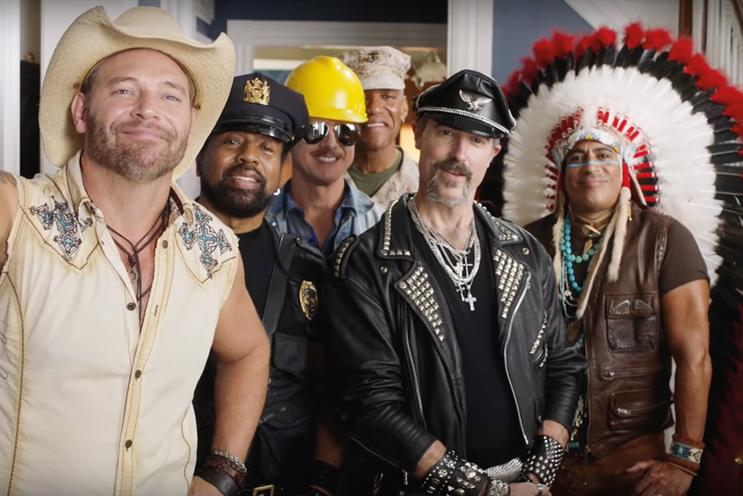 What they did
The challenge facing Publicis UK when it was creating a campaign for new client Yopa was how to differentiate it from other online estate agents. It succeeded by tapping into 1970s nostalgia, securing the Village People to front the ads. The group, most famous for YMCA, In the Navy and Macho Man, appears in full costume in the spots.
How did filming an ad compare to filming a music video?
We had a great time filming the Yopa ads. There are three of them and we are all living together in this crowded house.
The first ad has us sitting around a breakfast table when Felipe Rose announces it is time to move on. Eric Anzalone is cooking. Felipe books a free evaluation with Yopa.
The second shows the Yopa agent attempting to take photos of the house but we photobomb every shot.
The third shows us tidying up before we get an offer for the full asking price.
We love the comedy value of the ads – they definitely are not what you would expect for the usual estate agency and we were sold on the concept as soon as we heard about it.
Filming an ad was a longer process, requiring the delivery of lines, whereas a video is different because you dance and are constantly moving.
What was the best moment of your career?
Receiving a star on the Walk of Fame in Hollywood in 2008.
And the worst?
We never focus on "the worst" but probably it was losing luggage for a concert and appearing in street clothes before our audience. We looked just like a group of guys (but our audience knew the "characters" were inside of us all).
Do you think attitudes towards gay men have changed for the better during your career?
Yes, absolutely.
What music do you listen to?
We all have individual tastes and they vary, but we listen to alternative rock, electronic dance music, Tony Bennett and Michael Bublé.
Have you actually stayed at a YMCA? Was it fun?
Never stayed at one.
What other ads have you worked on?
Over the years, we have worked with American Express, Wonderful Pistachios, Miracle Whip and Letgo.
What's next?
Bigger shows in the UK – we miss working there and love to go back whenever we can.