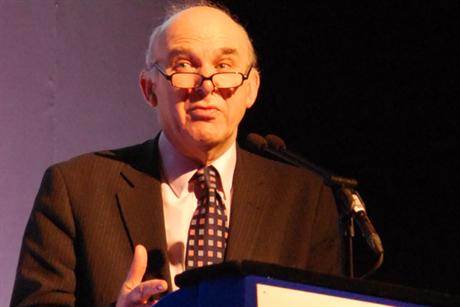 Cable was forced to relinquish his media duties in December 2010, after he boasted to undercover reporters he had "declared war" on Rupert Murdoch, despite being in the middle of an investigation about whether News Corporation's £8bn bid to buy the 60.9% of BSkyB it did not own would negatively impact media plurality.
Hunt, the Conservative secretary of state for Culture, Olympics, Media and Sport (DCMS), accompanied by special advisor Adam Smith, assumed Cable's media responsibilities the same month with the simple remit to be the impartial government arbitrator.
But last month, dozens of emails between Hunt's office and James Murdoch's chief lobbyist, Frederic Michel, have highlighted an inappropriately close and covert relationship between the media empire and the culture secretary's office.
In an interview with Sky News yesterday (6 May), Cable appeared to make a veiled attack about the way his coalition partner, Hunt, has proceeded to conduct the bid.
Cable said: "Well I certainly do feel vindicated and I certainly dealt with it in an entirely proper and fair way, but the overall approach of the government has, as you know been dealt with by the Leveson Inquiry, it was set up by this government, my party was very active in pushing for the establishment of the Leveson Inquiry."
The Leveson Inquiry detailed more than 161 pages of emails offering a running commentary on Government thinking, with confidential information leaked on an almost daily basis. Some of the correspondence suggests Hunt privately backed the controversial News Corp bid, and had done for some time.
Cable deferred to the robustness of the ongoing Leveson process, adding: "That's where ministers and others are going to be heard, setting out their evidence, and I'm one of them and I'd rather leave it to that forum to decide what happened and what should have happened, rather than just extemporise in this way."
The email trail between Hunt's office and the Murdoch's dated back to June 2010, a month after the general election, when Cable had responsibility for overseeing the News Corp takeover bid of BSkyB. The frequency of the emails increased after December 2010, when Hunt was put in charge of the investigation.
Revelations of the emails during the Leveson Inquiry led to Labour leader Ed Miliband to call for the culture secretary, who is also in charge of the London 2012 Olympics, to resign on 24 April. Hunt's advisor, Smith, resigned the next day, having taken full responsibility for the communications, which he admitted "went too far".
Follow Arif Durrani on Twitter: @DurraniMix