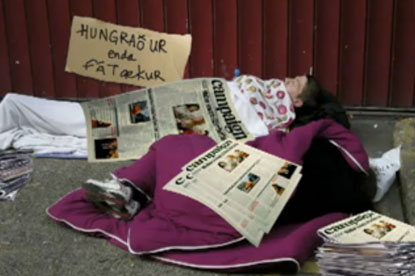 The Melbourne-based strategist, known on YouTube as "Simontsmall" posted the clip in reaction to losing the account for the New Zealand vodka brand 42Below, to an unspecified London agency.

The animated film features a sarcastic tirade at the ad industry, which accuses adland of "stealing ideas off YouTube", "ripping off Banksy" and being "skinny-jeaned-thick-rimmed-spectacled-hang-out-in-hoxton-because-you-think-its-cool" types.

WCRS's Transport for London "moonwalking bear" campaign, Wieden & Kennedy and Campaign itself also get a ribbing in the viral, which has clocked up more than 5,000 views on YouTube.



Colvyn Harris, chief executive, JWT India

London will always be an attractive destination for those passionate about advertising.

The London advertising industry now lacks the creative aggression and cleverness that made it an iconic market in the first place. It needs a fresh injection of mould-breaking campaigns that break new ground, and it needs the next generation of leaders to get visible.

It certainly doesn't have a monopoly on great creative work, but there are still big ideas generated in London adland that develop around the world.

Calvin Soh, vice chairman and chief creative officer Asia, Publicis

There is a very old acronym FILTH. Failed in London Try Hong Kong. Those were the days when London was the Mecca of advertising. And because the standards were so high, if you couldn't make it there, you had to make it somewhere.

All that was great was British, which eventually became a curse. As the world become global, London seemed smaller, more provincial almost.
Also, a funny thing happened in Asia. We became more self-confident. There is huge economic power in three billion self-confident people.

"So we still look at London and think great work still comes from there. But we think we can now match it or even better it.

Eddie Booth, executive creative director, Leo Burnett Hong Kong

Asia views London as still the best creative hub in the world.

"But the one big difference is that agencies that win awards for small clients have great creatives. Agencies that win awards for real, big clients are great agencies that have great creatives.

Asia admires London for doing good work for big clients consistently.?

Yes, sometimes it's a little self-indulgent, but there's nothing wrong with tipping the art side of the equation more versus the science side. It's still seen as the hub of the best ideas with the most interesting craft.

Lisa Bennett, Chief Creative Officer, DDB San Francisco

"Some Americans will tell you that London consistently produces the best ideas, has the hottest agencies and employs the most talented people in our industry.

"Others will tell you they're all a bunch of wankers. ?I, for one, have a great deal of respect for London agencies.

"Some of our agency's best work is being done out of London and New Zealand. Come to think of it, Jeremy Craigen and Toby Talbot are both Brits. Guess that answers that."


What did you think of the viral? Do you think it contains some - or even a lot - of truth, or is it just sour grapes?

Do you work in a London agency and recognise some of the stereotypes in the film? Join the discussion below.