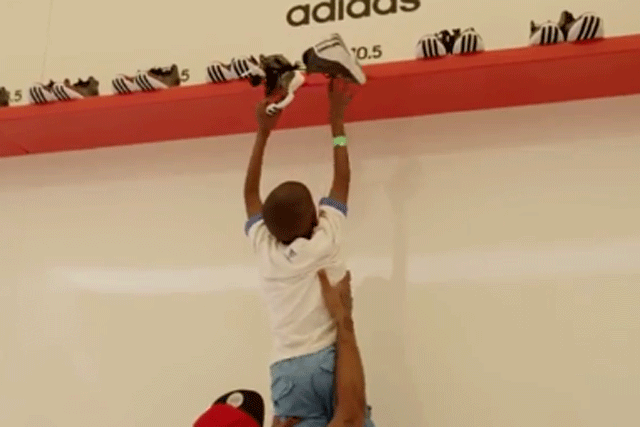 Adidas: Jump With Derrick Rose In London
If there's anything Adidas knows, it's that 'sneakerheads' are a powerful contingent. With limited releases and celebrity partnerships to obsess over, they have all the passion of One Direction fans but credit cards and the ability to vote.
It's no surprise then that the sports brand chose to harness this enthusiasm with a brilliant pop-up store concept. Instead of asking fans to fork over hundreds of pounds for their latest Derrick Rose signature trainers, they proposed a simple challenge: jump up 10 feet and grab them.
You can imagine what comes next: while some go flying into the wall, some jumpers tackle the task with aplomb. Even better, the Chicago Bulls point-guard was on hand to watch as Londoners took their shot at glory. The results are very entertaining, thanks to some zippy editing and music, and really make you want to have a go yourself.
Shared by an impressive 8% of those who've watched it, 'Jump with Derrick Rose' is the best kind of viral stunt. Not only does it wow both its participants and viewers, the concept engages cleverly with the product in question.
All in all, a slam dunk for Adidas.