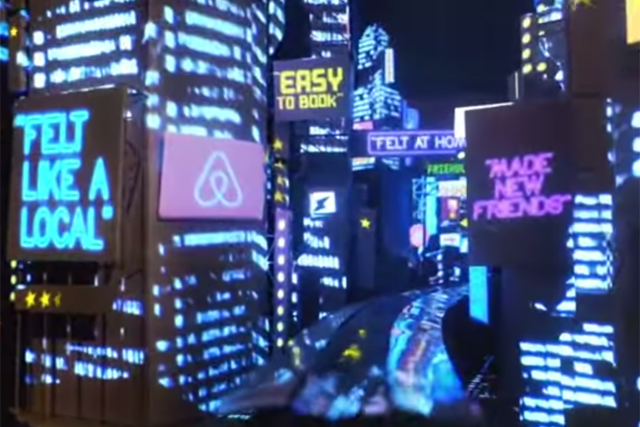 Airbnb: 'Welcome to Airbnb'
In the midst of shopping chains fighting tooth and nail for festive domination, it's easy to forget the world beyond blockbuster Christmas advertising. Hoping to lead the charge in a spree of seasonal counter-programming, this new spot from house-sharing site Airbnb has all the charm and appeal of a steady sleeper hit.
'Welcome to Airbnb', a whimsical journey through the madcap world of sleeping on a stranger's sofa, takes a homemade aesthetic straight out of a Spike Jonze film or an OK Go music video.
With the camera jauntily attached to a model railway, the first-person perspective carries us through brilliantly-realised pop-up landscapes, from tropical terraces to Tokyo high-rises. It's a clever visualisation of Airbnb's motto 'Belong Anywhere' and undeniably a feast for the eyes.
The brand has been recently gaining a reputation for this kind of technical innovation, with its short film, 'Wall and Chain', which uses sumptuous animation to depict a tale of Cold War struggle.
Fun to be had
While the ad was shared just over 5,500 times, Airbnb's spots show a willingness to go further and think different. Similarly ambitious in scope, 'Welcome to Airbnb' also hasn't lit the social video landscape alight just yet.
There's certainly a precedent for imaginative, 'puzzle box' ads hitting big online. Just last year, Honda's mind-bending 'Illusions', very much the 'Inception' of car advertizing, was shared over 180,000 times. The Japanese brand arguably invented the genre with its groundbreaking Rube Goldberg device, a thrilling method borrowed by massively popular spots like Red Bull's 'Imaginate'.
Of course, emotional appeal is just as important as showy feats of creativity. And while not packing huge emotional punch, the ad does evoke the wonder of travel and discovery in its colourful backdrops, 'Welcome to Airbnb' manages to make you wish you were on holiday without glossy beach shots or a cheesy voiceover.
As an added bonus, it might also make you want to buy a model train set - but maybe that's just us.
Either way, Airbnb has produced a charming and memorable spot. It's a good rule of thumb when it comes to viral ads: if the spot immediately links you to a double-length 'making of' video, there's probably quite a bit of fun to be had.
Read next