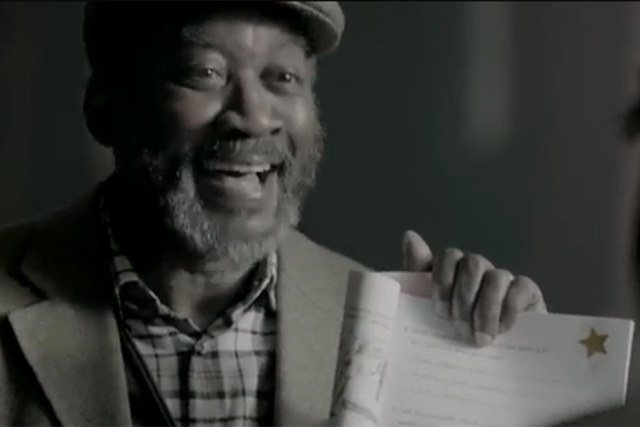 Bell's - The Reader
You really have to raise your glass to Bell's. The whisky brand's latest ad campaign, 'The Reader', is almost guaranteed to pull on the heartstrings and tear-ducts of all but the most cold-hearted among us.
Created by ad agency King James, the South African commercial tells the moving story of a man determined to learn how to read.
The reason? Because he wants to read every word of his son's new published book, from cover to cover.
Of course, it's not a smooth journey, and along the way he certainly suffers his fair share of setbacks. But it only spurs him on even further, until he finally announces to his stunned son at a packed pub that he has read his book.
"Give that man a Bell's", his proud son tells the barman – and after just watching what he has gone through to get to that point, very few would argue that he has not earned every drop.
It's a fantastic watch and stunning cinematic storytelling – but you might need to have some tissues ready.
Sentimentality
Director Greg Gray manages to cram more drama, sentimentality and emotion into just two minutes than most Hollywood blockbusters manage in two hours.
So much so, by the end of the ad, you will probably feel like having a drink of whisky yourself, just to settle your nerves.
It's a welcome change from the giddy distractions of Super Bowl 2014
It's certainly a welcome change from the giddy distractions of Super Bowl 2014, which, apart from a few notable exceptions, was not a vintage year for ads. Just like the game itself.
Indeed, 'The Reader' is a very different kind of ad; a far cry from some of the 30-second punchlines and chest-beating commercials which poured out during Super Bowl Sunday.
It's the small details which add up to a lot, such as when he misspells 'kat' while playing Scrabble with his friends only to get it right later and the Post-it notes reading 'kettle', 'oven' and 'taps' stuck to corresponding objects around his home.
As a creative device, personal triumph is also a high driver of sharing. In fact, according to Dr Karen-Nelson Field's book Viral Marketing: The Science of Sharing, seeing someone overcome seemingly impossible odds is more shareable than skateboarding cats, dancing babies and dressed-up dogs.
With just under 20,000 shares so far, it has made a modest start so far, but we expect it to rise up the charts as more and more people watch it.
Trust a whisky ad to leave you feeling all warm and fuzzy inside.