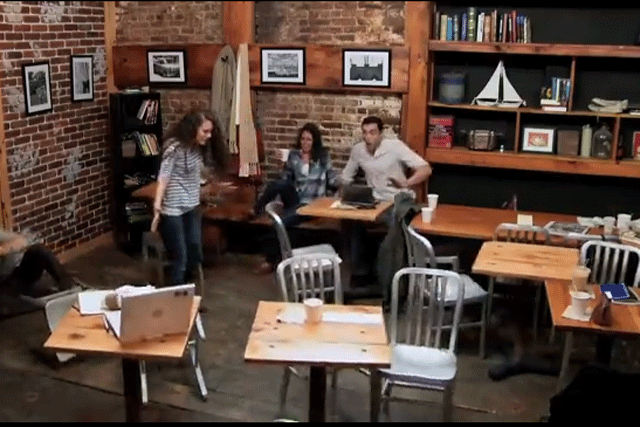 MGM/Sony - Telekinetic Coffee Shop
Has the advertising world been overrun by an elite cabal of sadists and school bullies? Judging by the latest rash of 'prankverts' – videos in which brands play jokes on supposedly unsuspecting members of the public – it certainly seems that way.
Whether it's staging mock murders in elevators (Dead Man Down), terrifying people in toilets (THINK!'s Pub Loo Shocker) or trying to convince people the world is about to end (LG's Meteor Strike), it seems the gloves are definitely off this year.
The latest example comes from the twisted minds of the horror film industry. Now we all know getting your morning coffee fix can be a real ordeal. You're half-asleep, there is a huge line of people before you and you are late for work.
However, to promote the remake of 70s horror movie Carrie – Stephen King's classic story about a teenage girl with telekinetic powers – agency Thinkmodo gave caffeine lovers a wake-up call more powerful than knocking back 20 espressos.
It begins with an argument between two patrons after a man accidentally knocks some coffee over a teenage girl's laptop. So far, so normal. But what happens next is anything but. The girl turns to the man and raises her hand, sending the man against the wall and up off the ground. She then screams and books fly off the wall and tables around her slide across the ground.
It's not exactly your normal coffee shop experience, but, of course, thankfully for the people who recoil in horror at the strange girl, it's a complete fake. The shop has been rigged up, the warring girl and guy are actors and it's all been filmed to get the hilarious reactions of the general public. Some run away, others scream and shout, while one brave soul even stands his ground. The result is an ad that has also had a supernatural hold on the Unruly Viral Video Chart.
It has attracted more than 1.8 million shares this week, making it not only the most shared ad of the last seven days but already one of the top 10 most shared ads of the year – creating a lot of buzz ahead of the film's release on October 18.
And there is no doubt that laughter and exhilaration are the key triggers behind this ad's sharing success – a magic formula for brands looking for a viral hit.
But what makes prankverts so effective is they force you to imagine how you would react in the same position, thereby intensifying and polarising reaction.