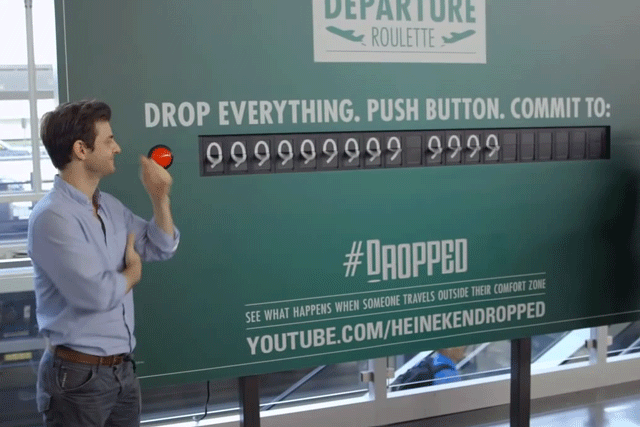 It's holiday time! Wouldn't it be nice to be offered a free holiday? What if in order to get that, you'd have to drop your planned trip and go elsewhere?

Heineken has been on a mission to test people's commitments – friendship, professionalism - now the brand is examining their sense of adventure.

Heineken set up a departure board at New York's JFK airport with one display line and one button. The challenge: if you press the button it means you are dropping your travel plans and going wherever the board decrees.

The video has a nice set up, in the first 15 seconds the viewer gets enough information to be intrigued and stay for more. Then it presents us with those who found reasons not to take the challenge, the tension builds up and finally we meet the brave ones! But where will they go?

This content, despite being almost three minutes long, is delivered so well that one hardly notices its length. Heineken doesn't disappoint with the storytelling or the production. It yet again brings us an interesting idea and quality, well-executed content.

Hence, it's not a surprise the video is already very popular on the web. As the content is very shareable, it will continue to spread.