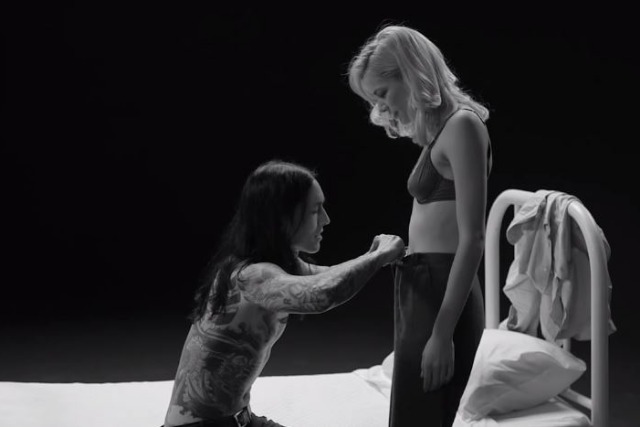 UNDRESS ME
After the tantalising foreplay served up by Tatia Pilieva in the "First Kiss" video for fashion brand Wren, the filmmaker now moves strangers to the bedroom and asks them to undress each other.
She has once again teamed up with a brand, collaborating with US TV network Showtime to promote the next season of hit series "Masters of Sex". Starring Michael Sheen and Lizzy Caplan, the drama tells the story of the real-life pioneers of the science behind human sexuality, Dr William Masters and Virginia Johnson.
Apart from the brand change, plays it safe by keeping the premise of the first video. "Undress me", like its predecessor, is a black and white production that bets on the play with light. The raw set with a simple bed in the middle of it works very well and doesn't disturb from the experiment.
Intimate and awkward
The concept also stays the same; a couple of strangers are put in an intimate, but awkward, situation. Interestingly enough, participants become more comfortable once they are undressed to the point where a director's "cut" was required to disturb the momentum.
It's so simple but it works. The authenticity of human reactions and intimacy of the couples glues viewers to the screen. All of this creates a strong palette of emotions in the spectator.
Showtime's link with Pilieva could be both good and bad for the brand. On one hand, using the popularity of "First Kiss" has definitely helped create interest. But, on the other hand those who know about Wren's involvement in the first make might associate the second video with the apparel brand despite it being created for "Masters of Sex".
But with the high number of views and engagements already generated in the first few days, it looks like Showtime won't regret getting into bed with Pilieva's concept.