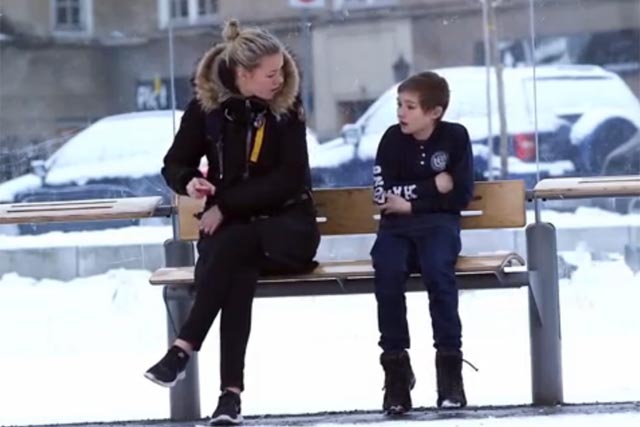 The ad brings the Syrian issue closer to home by creating this touching story. 9/10
SOS Children's Villages Norway - Would you give your jacket to Johannes?
What would you do if you saw a freezing child during the winter? SOS Children's Villages, the world's largest orphan charity, tested the Norwegian public by sitting 11-year-old Johannes on a bench at a bus stop on a cold day in just a thin t-shirt and jeans.
The result is a heart-warming video showing strangers taking off their coats and wrapping them around the boy.
The point of the ad is to raise awareness about the situation of children in Syria who face winter without warm clothes or safe shelter. Set in an everyday environment, the video shows that we are more likely to help somebody right in front of us than somebody far away whose pain is perhaps more abstract.
The film succeeds in maintaining the audience's attention throughout its three-minute duration. The first 15 seconds creates a dramatic atmosphere and pulls the viewer in. The authentic content is complemented by the simple production and the unexpected ending secures viewer's retention.
NGOs often try shock tactics in order to get the public's attention, but getting the audience to feel empathy rather than sympathy is that much harder.
And the fact that the ad is already popular, not just in Norway, but across the western media proves this approach works.