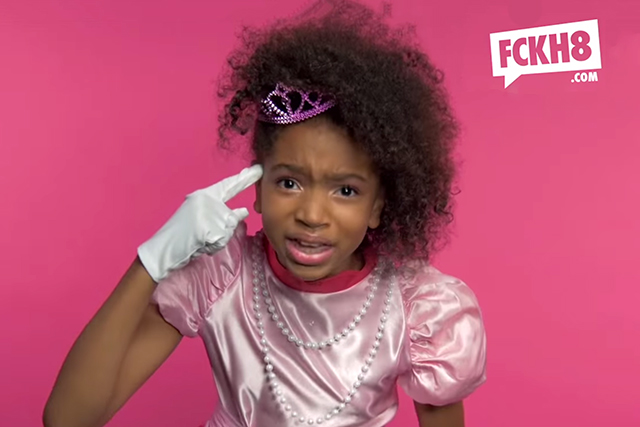 Potty-Mouthed Princesses Drop F-Bombs for Feminism by FCKH8.com
The biggest shock this Halloween has not come from a horror movie, but from five little girls who swear like sailors.
The highly controversial video - created by clothing retailer FCKH8 to promote its line of feminist T-shirts - has whipped up a storm in pink on social media due to its no-nonsense message.
'Potty-Mouthed Princesses' features the quintet dressed up as Disney princesses while swearing profusely as they snappily outline gender injustices, including wage disparity, sexual assault and ingrained misogyny.
The hook behind the campaign is cheekily determining what's more offensive: children swearing or the aforementioned social imbalances?
It's a message that been picked across the web loud and clear. Love it or hate (and a lot of people hate it) - the ad has gone viral, attracting more than 754,000 shares in its first week alone, making it already the second most shared ad of October.
That's despite the YouTube version of the video being withdrawn by the Google site for 'a breach of terms and conditions'. Although, interestingly, the Facebook video wasn't, driving the lion's share of its success.
But just what has been driving the success of the ad? Well, firstly, it's very much a Marmite campaign: you either love it or you hate it.
Risky strategy
Its jaw-droppingly shocking delivery and hard-hitting message is designed to divide opinion and elicit strong emotions from either camp - almost guaranteeing sharing success.
This would be a very risky strategy for a well-known brand to implement, but for a little-known company like FCKH8 with a strong message to get across to its target audience, it's a lot less hazardous.
Saying that, there are a lot of parents sympathetic to the message, but disapproving of the hard-hitting methods.
It's also bang on trend. Brands such as Always, Under Armour, Verizon and Pantene, to name a few, have all created ad campaigns this year celebrating female empowerment, racking up millions of online views and sparking important conversations in the process.
The fact these videos are making headlines and driving so much discussion is good news for women's rights and is very much part of the wave of new feminism.
Read next