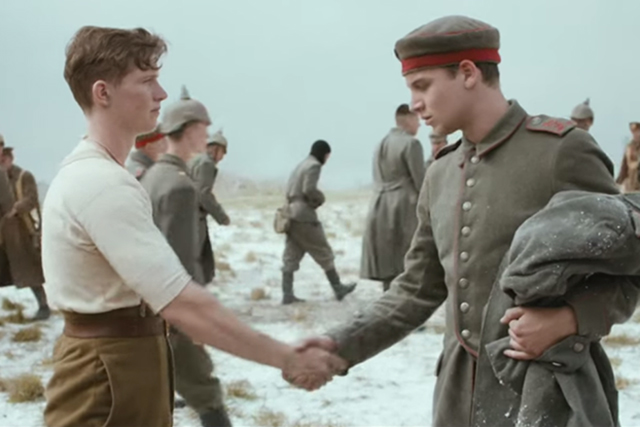 Sainsbury's: 'Christmas Is For Sharing'
Just when you thought John Lewis had the Christmas advertising season tied up and packed away for another year, Sainsbury's introduces that adorable penguin's toughest opponent yet.
Recreating the events of the famous 'Christmas truce' during the First World War, 'Christmas Is For Sharing' is already being touted as the new ad to beat.
Beautifully shot and conceived, the spot depicts the moment when British and German troops put aside their weapons for one day, playing football against each other.
'Christmas Is For Sharing', a nod to the truce's unexpected pacifism, has a sweeping feel unmatched even by John Lewis' '#Monty the Penguin'.
Sainsbury's spot acutely understands the emotional beats that produce an attention-catching Christmas ad.
Recent research into last year's crop of Christmas ads (including Sainsbury's last effort) showed that the most shared festive ads elicited strong emotions from its audience, particularly feelings of warmth and happiness. Retelling one of the most incredible war stories of all time, 'Christmas is For Sharing' certainly delivers this in spades.
Held back
So what could hold it back? Well, firstly, Sainsbury's has missed a trick by not creating a version on Facebook Video, instead choosing to embed the YouTube video on its Facebook page.
The emergence of Facebook has shaken up the video ecosystem this year, and for good reason. Looking at the performance of the John Lewis ad, the Facebook video has significantly outperformed the YouTube instance, driving almost two-thirds of the total shares and almost four times the share rate. This may inhibit sharing across the open web where around 75% of video shares take place.
Secondly, the ad's appropriation and mythification of real life events is undeniably problematic.
While there's little to find offensive in a CGI penguin, Sainsbury's bold address of the centenary could ultimately backfire. Overall, the comments have so far been positive, but given the national conversation around Remembrance Day, the ad's rose-tinted view of war has been met with some negativity across social media.
It's still too early to tell whether this gamble has paid off. As of this morning (14 November), 'Christmas Is For Sharing' has been seen an impressive 4m times but shared just under 70,000 times. In other words, for every 60 views of the ad, only one person has shared it. The brand will need better than this to catch the elusive penguin.
Sainsbury's efforts to steal Christmas from its department store competitor have not been realised yet, but time will tell how the two stack up.
Meanwhile, John Lewis may have faced its most formidable creative challenge yet, but in terms of viewer response, #MontyThePenguin can sit comfortably for another day.
Watch next