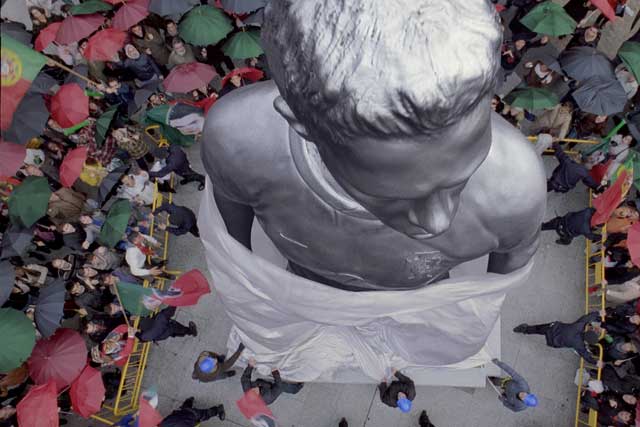 Viral video is dead. Or at least the nomenclature should be. With its VHS credo, the term represents an approach that was, more often than not, the strategic equivalent of throwing a lit match into a darkened room. We've all heard the stats: 70 hours of video uploaded to YouTube alone every minute ...
That's a very small match and a very big room.
Phil Townend, the managing director at Unruly Media, has long since advocated the more useful term "social video": "Viral video promotes the idea of randomness; social video success is predictable, measurable and repeatable."
As technology and social media have evolved, so has online video. High-definition, full-screen and shareable, it demands bigger production budgets and its own media spend. No longer an adjunct to the marketing plan, social video is playing a more and more central role. And no wonder, when you consider its impact on brand affinity, preference and purchase intent. The result is an explosion in paid social video views: market estimates in the US forecast that the number of paid views will rise from eight billion last year to a staggering 24 billion by the close of 2012.
Distinctions between film developed for TV or cinema and film developed for the web are becoming redundant. As technology converges, all video will be shareable and will require the same high-quality production values and thinking. Nike is a famous early adopter of this approach, debuting commercials such as "write the future" on Facebook.
Successful social video is already making the transition to TV and cinema, such as BETC London's recent film for Samsung, "seductive motion" - a move that was inconceivable when "virals" were developed on tiny budgets for small screens with the sole ambition to titillate or amuse.
Brave clients are using social video as the ultimate copy test, investing in production budgets and using social media as a test for how well films resonate in order to make big calls about what to put their full media budget behind.
Barack Obama's YouTube community manager, Kate Albright-Hanna, pioneered the approach in 2008, using the site to not only take advantage of personal recommendation to promote videos, but to review comments to help the team tailor campaign messaging, which are then amplified through heavily supported TV advertising.
As the rhetoric of earned, owned and paid-for media becomes more common in client briefings, an appreciation for the power of social video will only grow.
Brands are already exploring the benefits of creating communication ecosystems, accepting that most people join the conversation midway through. Indeed, the opportunity to generate scale, efficiency and momentum around our ideas comes in part from creating the feeling that you are joining the party late, seeing something for the first time that people are already talking about.
And it is not just a question of scale - winning the right reactions from the right people helps build the sense that this is something worth paying attention to. Broadcast ceases to be the de facto lead medium but servant to the idea, offering scale and regular reminders of initiatives that live across owned and earned media.
The term "social video" is useful for another reason. Thinking about film as a social experience forces clients and agencies to raise the creative bar. It reminds us that we are guests not simply in the living room but in our consumers' increasingly stretched attention spans. It focuses us on the bigger task of challenging the indifference people feel about advertising.
Thinking about what might make someone view, talk about and share a brand film ensures we're worrying about the big stuff. That doesn't mean jettisoning other strategic concerns - it means not forgetting that, before we can achieve anything, we need to overcome people's inherent disinterest. For this reason, more talk about social video (and less about virals) represents one of the most powerful antidotes to the current climate of conservatism that pervades so many of our client conversations.
Andrew Stirk is the executive planning director at BETC London
CASE STUDY: SAMSUNG SMART TV
Brief
Samsung Electronics issued BETC London the global brief to launch its smart TV - a new interactive television that is both voice- and motion-controlled - with an online film.
Challenge
At the heart of this brief was a product demonstration: a simple gesture is all it takes to access movies, sports, apps and other smart content on the TV. The challenge was how to bring that demo to life online.
Answer
A film designed specifically for online from the start, but with the production values of broadcast. A film that was designed to be entertaining, shareable, likeable and, ultimately, social, taking cameo cues from memes and previous social hits, with a script that transcended global barriers of language and culture.
Result
In May, BETC and Samsung uploaded a big, farcical film in the style of Blake Edwards' The Pink Panther. The cast featured a motley collection of fellas, including an Old Spice favourite, all hoping to have a chance with a beautiful woman they believe is beckoning them over - in this case, a very "likeable" Victoria's Secret model. Within three months, the film had more than 12 million hits on YouTube and jumped the gap to the big screen, running on cinema from September.
UNRULY'S VIDEO MYTHS

1. Social video is a fad
Far from passive, consumers now actively search for content to post and discuss with their peers. The result: shares of video ads over the past 12 months have increased ninefold to a staggering 1.1 billion.
2. Predicting social video success is impossible
Recent research has found the number of "shares" a video attracts is linked to the strength of emotion it elicits. Unruly has developed a measurement tool called "Unruly Share Rank", which uses an algorithm to rank ads from one to ten. The higher the ranking, the more likely it will become a success.
3. Overt branding impairs shareability
A recent study found the number of times a brand appears visually or verbally in a commercial has little or no impact on its popularity online. If the content is good, then users will react well, whether the content has overt branding or not.
4. Positive messaging always outperforms more negative emotions
Advertising videos are nearly always keyed towards positive messages, but some of the most powerful branded videos can harness the power of negative emotions, such as shock and anger. Public bodies and charities can use these emotions to great effect - just think about public safety videos such as "Embrace Life" and "Dear 16-Year-Old Me", designed to shock people into wearing seat-belts or using sun cream. Shocking videos are shareable and the right brand, targeting the right audience, can harness this power.
5. Social video doesn't deliver ROI
A recent study found that brand favourability and brand association rose by 57 per cent for consumers who had viewed the ad after receiving it from a peer. There was also a 14 per cent increase in the number of people who said they enjoyed the video after a recommendation versus those who had discovered it by browsing. Those who enjoyed a video were 109 per cent more likely to purchase the product featured in the video.