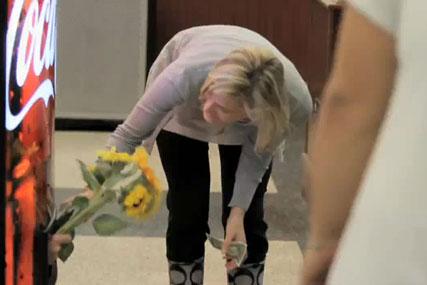 Online video and social network advertising are now a force to be reckoned with. The latest edition of the Digital Marketing Outlook report by the Society of Digital Agencies reveals that as much as 50% of advertisers will shift funds from traditional to digital media in 2010.
Now that digital content is spreading across a growing number of screens, it is more important than ever to maintain consistency across all advertising channels.
Advertising in a 'multi-screen' world
The Internet has truly arrived and is being taken seriously, but advertising budgets continue to favour traditional media. Now that online video and social network advertising are joining the industry's "grown ups' table", many marketers struggle with the task of integrating it into the existing media mix.
In a recent report, advertising research company Nielsen argues that the online ad industry itself is to blame for deciding to remain independent. The industry speaks its own language, uses its own effectiveness measures and often fails to provide easy methods to help advertisers understand the role of the Internet in the entire marketing mix.
When considering the relatively new medium of online video, do marketers really need to change all their existing approaches in order to adapt to this new "multi-screen" world? Is it necessary to throw out the old rules from the traditional TV era?
An attentive environment for brand communication
Research from Millward Brown indicates that online video advertising can be a powerful advertising platform. Research shows consumers seem to be more receptive to an ad-supported online video experience.
Only 30% of the survey respondents said they pay attention to television advertising, versus 46% for online ads. Furthermore, 72% of the participants admitted they do some other activity (eg leave the room, switch channel) during TV ads, compared to just 33% for online ads.
People pay more attention to online ads because they often choose to voluntarily engage with the content. In contract to traditional media, the choice to be exposed to online branded content is often made out of interest. This leads to increased communications awareness, brand favourability and consideration.
Creating targeted and engaging platforms for brand communication
Because engagement with online brand communication is higher, viewers often evaluate the content more favourably. Millward Brown's study showed online exposure resulted in 44% aided brand favourability (compared to 35% for TV) and 47% aided consideration (compared to 37% for TV). It is important for marketers to recognise the additional benefits of adding online video advertising to their existing media mix.
While the reach of online video ads may (at least for now) be lower compared to TV, there is high potential to capture your audience as they actively engage with content online. Marketers can extend and deepen brand awareness created through TV advertising by creating online video ads that are relevant to the consumers' mindset and interests.
Defining the role of online video in the marketing mix
For some brands it make sense to make online video the core of their advertising strategies in order to reach a target audience that is difficult to reach elsewhere (TV or otherwise). An excellent example of this is Red Bull, which has successfully used branded content videos to utilise its large online audience in a smart way. The most recent example is a video featuring stunt performer Travis Pastrana breaking a world record with a spectacular rally car jump.
This video reached more than four million viewers in one month. For other brands, online video may be used to build frequency, or to provide a platform for connecting more deeply with consumers by facilitating interaction and dialogue.
In addition to this interaction factor, Millward Brown research indicates that the most noticed online video ads are those that are entertaining and enjoyable, and are executed in synergy with offline marketing efforts. Of course the target audience and objective can differ between brands and campaigns. But it is always critical that the specific role of online video is clearly defined in order to determine and evaluate campaign success criteria.
Lego Cl!ck
This recent online video campaign by toy manufacturer Lego is an excellent example of a brand using online advertising to reach out to and connect with its customers.
Lego defines a Click moment as "that little bolt of excitement that hits when the solution to a problem suddenly becomes clear". With this online video campaign, the brand is now announcing the launch of a programme to celebrate and foster these Click moments. The hub of the programme is a website that works as a virtual canvas of ideas, inspired moments, quirky stories, solutions and tips from serial Clickers designed to celebrate and inspire Click moments of all types. In addition, Lego releases its first official Lego iPhone application, allowing users to convert their favourite imagines into Lego style. Facebook and Twitter are also heavily involved in the campaign.
The website provides users with a platform to exchange ideas and spend time with the brand. The combination of different communication channels creates targeted and engaging environment for brand communication. It is an excellent way of communicating with the more mature segment of Lego's target audience, emphasising art and creativity. Users can browse posts, videos, photos, tweets and more and add their own input to the site. They can join the conversation in the blog section of the website. The video has been watched by more than 830,000 people and it has spread to more than 262 blogs.
Coca-Cola's Happiness Machine
Coca-Cola wanted to develop a video for viral distribution that would tie into its recently launched 'Open Happiness' global advertising campaign. The video was introduced through Coca-Cola's YouTube channel.
In the video, Coca-Cola surprises American college students trying o to buy a Coke and end up with ten, or a pizza, or a twenty foot sub. With this video, Coca-Cola has turned a clever ambient idea into an online video campaign that amuses both those in the film and us watching it.
The content is highly engaging and is a typical example of a video that can spark a so-called water cooler conversation. It is also a good fit with the brand's global 'Open Happiness' advertising campaign. Coca-Cola is a brand that has been quite successful in re-launching some of its famous high profile television ads online. But in addition, it has also created a number of great online videos that blend in nicely with its offline campaigns. The video spread to more than 660 blogs and 4,700 wrote a tweet about it.
Online video advertising offers an attentive and engaging platform to communicate with your customers. That is, if you do it correctly.
The main things to remember are:
A good online strategy extends far beyond simply uploading your 30" television commercials onto YouTube. Doing just that would be a waste of resources, given the wide variety of new possibilities that online can offer.
Advertisers should clearly define the role of online video and social media in their advertising strategies, and re-allocate their budgets accordingly.
Viral View is written by Jimmy Maymann, co founder and chairman of GoViral.