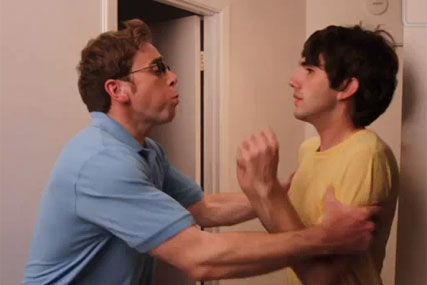 I'm sure that this was not part of the film's producers' plan but the result has been overwhelmingly positive. The lampooning of the trailer in the various spoofs has had a big impact on awareness of the movie and driven traffic to the original trailer (now viewed some 700,000 times on YouTube). It has also generated acres of additional PR coverage.
The truth of the matter is that even a topic like Facebook would have failed to generate anything like the amount of buzz that has been generated if the trailer had not set off an emotional trigger among the early viewers of the trailer and which resulted in the spoofs.
This does not mean that awareness of the movie would not have been generated. A decent creative execution and well planned distribution can achieve a great deal. Integrating social media functionality to the content also has significant impact.
For most brands the results this generates are good enough but still far too few really set out to create something special – whatever they might say. Creating a piece of content that does cause a sensation is always going to rely on a bit of luck but there are things that can be done to create the right conditions.
The first and most important step is for brands to realise that being spoofed is practically always a good thing. Even if the spoof makes fun of you or your product, great spoofs generate an exponentially greater number of views. If your product is half decent, you will also find people coming to your defence with their own spoofs.
For too many brands unfortunately this first step remains one they can't overcome. The music industry in particular continues to miss the wood for the trees. EMI's recent action to force YouTube to take down the 'Newport' spoof of Jay-Z's New York is a case in point.
There was a copyright infringement and that artists need to protect their work but 'Newport' was great for Jay-Z and EMI. That someone loved the song so much to go to all that trouble reflects nothing but positively on the original. The result was also nothing but positive for both artist and label with hundreds of thousands being reminded on the original and again, acres of PR coverage was generated. Forcing its removal was nothing but annoying and counterproductive.
The acceptance of spoofing unleashes creativity not just in the execution of the content but also in the planning of the distribution. It means not going for reach immediately and distributing through publishers with larger but more passive audiences, but instead finding more edgy, creative opinion formers who are more likely to take your content and create something new and exciting from it.
Brands will continue to get good results from their online campaigns based on good creativity and planning but as spoofing is more widely embraced I hope that the number of great triumphs based not on luck but on design will also increase.
Jimmy Mayman is co-founder and chairman at Goviral