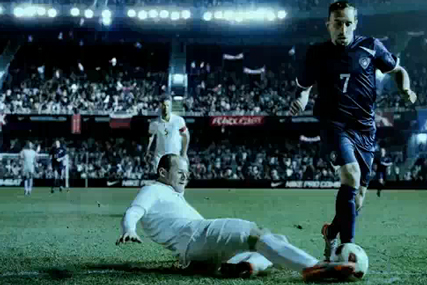 Everyone accepts and understands that a video that is truly viral is an exceptional thing that happens very rarely among the hundreds of millions of clips that are online. Virals can only become popular without support, if the content is ultra engaging.
Online video, however, is more important than ever. As brands have become more sophisticated in their approach, they have understood that getting one million-plus views is not the most important thing. What matters is reaching key target audiences, however large or small they may be, with relevant and interesting content.
It doesn't have to have a 'wow' factor that compels the viewer to email it to all their friends or post it to Facebook, but it does need to form part of an ongoing conversation between the brand and the consumer.
This conversation is crucial to today's advertising, as it not only leads to brand awareness, but to building long-term, mutually beneficial relationships with consumers, which should be on the top priority list of every marketer.
In this more complex environment, the need for videos to appear in relevant bought-media environments has become critically important. But what has also become much more important is the need for detailed measurement of campaigns that, for the first time, enable brands to define what a successful online video campaign is.
Goviral's contribution to this process has been the development of new reporting technology that uses our video player, which is embedded into publisher sites to track user engagement with the content they are viewing.
Looking back through our campaigns, we have been able to benchmark how sectors that range across multiple areas, from automotive to entertainment to B2B, normally perform, and have attributed a Viral Action Rate (VAR), which is the number of online social actions carried out per 1,000 views, to each sector.
Consumers engage with brands through an online social action, which includes embedding an online video in your site, downloading the content, emailing it to others, and sharing videos on a social media platform.
This means we know whether a piece of content is performing above or below the norm for its sector, and helps us, media agencies and brands, to constantly refine and improve campaigns.
We have also identified what the most common viral actions for branded content are and, in the UK, it's taking content and embedding it into a personal website or blog.
Based on analysis of 250 UK campaigns that generated 51 million views since July 2009, it's perhaps unsurprising that the entertainment sector proved the most viral, with 2.27 of every 1,000 views resulting in the content being taken and embedded into a personal site. In B2B, it was only 0.27 per 1000 views.
What all this data is telling us is that we now know what brands can really expect from their online campaigns, both in terms of volume and type of activity. This allows them and us to measure progress and to agree on what successful engagement is.
Online video distribution is now a grown-up business, with grown-up measurement and brands, and their media agencies, are using this data to create ever more sophisticated and engaging campaigns. These may not deliver millions of views, but they deliver real results by engaging with the right audience with the right content.
Goviral Top 10 - May 2010
1. Nike - Write the future
This latest extraordinary online video from Nike was exclusively launched through their Facebook page and on nikefootball.com, and has managed to reach a staggering 11-plus million views, just within the last third of May.
The 3:03-second long video features footballers Cristiano Ronaldo, Didier Drogba and Wayne Rooney to name but a few, as well as cameos from the likes of tennis player Roger Federer and animated TV character, Homer Simpson.
The fun and action-packed video takes the viewers on a journey that dramatically captures that one moment in football when headlines are written and which, potentially, can bring eternal happiness to an entire nation, while bringing others saddened to their knees.
Agency - Wieden+Kennedy Amsterdam
2. TomTom - Behind the scenes of Darth Vader's voice recording
Lord Vader commands you to turn to the Dark Side. Now, instead of getting driving directions for your journey by the ordinary faceless voice, it's possible to download the voices of 'Star Wars' characters for your GPS.
To promote the first of four new voices for their GPS solutions, TomTom has released this hilarious behind-the-scenes video of Darth Vader's session in the studio for his voice-recording contribution. The video quite brilliantly ties together with TomTom's new service offering. The three additional voices to be released are those of Yoda, C3PO and Han Solo.
Agency - Pool Worldwide Amsterdam
3. Olympus - PEN Giant
In July last year, The Pen Story from Olympus was on this Top 10 list, and now Olympus has released a follow-up video with just as much 'feel-good' atmosphere.
The video, promoting the Olympus Pen camera, is called PEN Giant and is again based on stop-motion technique. Some 355 pictures have been taken with an Olympus PEN camera to produce the video, without any computer animation at all. The use of stop motion in this video fits perfectly with the brand and product.
Agency - DSG
4. Hi-Tec - Walk on water (Liquid Mountaineering)
This documentary-style video gives us a view on a new form of 'extreme' sport called liquid mountaineering. It basically involves people attempting to run on water.
The video features footage and interviews with the originators of liquid mountaineering as they explain how they are developing the sport from scratch. The Hi-Tec brand cleverly plays a central – but low-key – role in the video, as it is explained that the sport started by accident when they found out that Hi-Tec's water-repellent shoes ccould enable you to run across water.
Agency: CCCP Amsterdam
5. Arriva/Movia - Mukhtars Fødselsdag - Bedre Bustur (Mukhtar's birthday - better bus ride)
To create positivity and smiles among their passengers, the two public transportation companies Movia and Arriva launched this touching 'Better Bus Ride' video. It shows a so-called flash mob, or rather a public surprise party, for a randomly chosen bus driver in Copenhagen. Mukhtar, who was going to take the day off for his 41st birthday, but was asked to help a friend, unknowingly takes the lead role in the video. A hidden camera within the bus catches a birthday Mukhtar is unlikely to ever forget, and a day that ends quite differently from what he might have expected.
Agency: bybird/kadaver
6. TOYOTA - Toyota Sienna "Swagger Wagon"
In an attempt to give its Sienna minivan a little more street credit, Toyota has created this funny family rap video. With a heavy beat and a couple of gangsta rap lines, the mother and father of the Sienna family reject the stereotypical label often given to those who drive a minivan.
Toyota has actually created a series of Web videos – and an accompanying YouTube channel – featuring the two self-absorbed parents with the only vehicle that matches their awesomeness, the all-new Sienna – the first minivan made with adults' minds in mind.
Agency: Saatchi & Saatchi Los Angeles
7. Sony - 3D TV
Sony lets you know that maybe it is time to get a 3D TV in the time for the World Cup with this new video. The slow-motion video showcases Brazilian footballer Kaka performing tricks, a very strong man, a herd of screaming girls, a burning sports car, and a football goal exploding.
However, although the video has been shot in 3D, all images are blurred, resulting in the entire dramatic slow-motion sequence being shown in double. The fuzzy fake 3D-style of the video is actually quite creatively impressive. However, there is no doubt that real 3D pictures are preferable.
Agency - Anomaly London
8. Nissan Qashqai - Urban Bowling
What happens when you park a Qashqai at the bottom of a hill and roll hundreds of bowling balls in its direction? Get the answers in this video, which is a funny and clever spoof of the hugely successful Bravia 'balls' video from Sony.
Nissan is all about challenge and the video is created to prove the fact that it never stops demanding that its cars endure the most extreme conditions. Naturally, using bowling balls is a bit of a stretch, but the company goes on to state that Nissan's testing facility really does go to outrageous lengths to guarantee consumers' safety. It sure would be interesting to view the making of video for this.
Agency - TBWA\G1
9. Stella Artois - Up There
This 12:46-second long documentary video entitled UP THERE, is sponsored by Stella Artois. The video is shot high above the streets of New York and reveals the dying craft of large-scale, hand-painted advertising, and the story of the painters struggling to keep it alive.
Capturing a trade that is equal parts artistic precision and gruelling labour, the video presents a painting tradition that pre-dates modern advertising – a craft that today finds itself dangling precariously on the brink of extinction.
Although not making a significant number of views compared to other videos on this month's list, it is a brilliant example of branded content aimed at creating deep engagement from a specific target audience.
Agency - Mother New York
10. Google Chrome - Speed Tests
>
Don't try to explain it – just show it. That seems to be the mantra behind this new video from Google to promote its Chrome browser.
BBH New York and the Google Creative Lab have joined forces to create this online video that features a variety of experiments to test and document the speed of the Google Chrome browser.
The video includes three crazy and playful tests in which Google Chrome is put up against some very fast adversaries: lightning, sound, and an over-dimensional potato gun. Google has also released an interesting behind-the-scenes video.
Agency - BBH New York
By Jimmy Maymann, chairman & co-founder at goviral