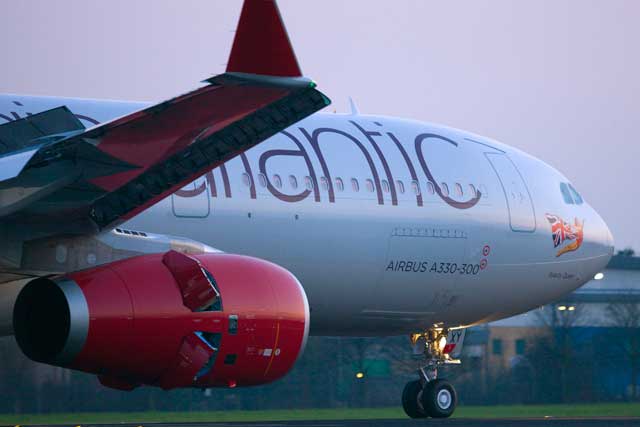 The carrier will begin flying between London Heathrow and Manchester, Edinburgh and Aberdeen from later this month, with 26 daily flights between Heathrow and the new destinations. It will be using slots formerly operated by BMI, prior to its acquisition by BA parent company IAG.
To distinguish the flights from its long-haul service, Virgin Atlantic will introduce the Little Red branding, to allude to the "taste" it will offer customers of the full service on its longer routes.
As part of the Little Red service, Virgin Atlantic will offer fliers free 23kg luggage check-ins, pre-assigned seats, complementary snacks and drinks, and hot breakfasts for morning flights.
The airline has agreed a number of brand partnerships, including with crisp brand Tyrrells for the provision of special edition "Plane Crisps" made with miniature potatoes. It has also signed a deal with soft drinks company AG Barr to provide Irn Bru on its Scottish services.
The launch of Little Red will be promoted with an ad campaign targeting the regions around Manchester, Edinburgh and Aberdeen, focusing on the "sparkle" Virgin Atlantic will be adding to short haul journeys.
Virgin Atlantic founder Sir Richard Branson said: "Virgin Atlantic has been on an incredible journey since we started with a single plane 29 years ago. Little Red represents the next step on that journey as we go head to head with British Airways to provide domestic flights that deliver Virgin Atlantic's rock and roll spirit as well as real value for money.
"The European Commission recognised that a British Airways monopoly would be undeniably bad for consumers and Little Red will stop British Airways dominating routes and driving higher prices," he added.
US airline Delta is set to acquire a 49% stake in Virgin Atlantic, currently owned by Singapore Airline. However, Branson has insisted that the Virgin brand will remain, despite claims by IAG chief executive Willie Walsh that it is likely to disappear.
Follow @alex_brownsell