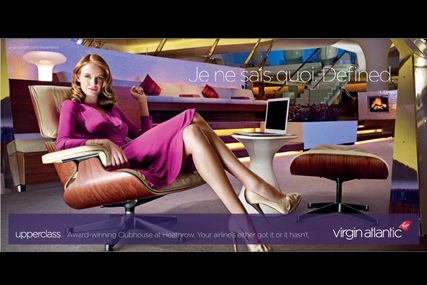 Created by RKCR/Y&R, activity includes a series of print, outdoor and online ads designed to promote the airline's Upper Class service. Media planning and buying has been handled by Manning Gottlieb OMD.

The creative aims to capture the glamour, style and comfort of flying Virgin Atlantic Upper Class and the little touches of 'Je ne sais quoi' that set it apart.

The campaign first launched in the US at the end of May and is in the process of being rolled out across 32 key destination markets for the Sir Richard Branson-controlled airline.

It follows the airline's decision last year to consolidate its multi-market advertising business into the UK incumbent RKCR/ Y&R agency. The international roll-out is being managed by Y&R.

Paul Dickinson, director of sales and marketing for Virgin Atlantic, said: "People always tell us that there is something special and different about travelling with Virgin Atlantic and this campaign was designed to illustrate that certain magic ingredient that sets us apart from the competition."

The UK campaign follows Virgin Atlantic's 'Still red hot' campaign last year, which celebrated the brand's 25th birthday.

The TV spot for that campaign, produced in the mouth of a recession, featured glamorous 80s-styled cabin crew strutting through an airport to the sound of Frankie Goes to Hollywood's Relax.

The new campaign aims to build the airline's brand presence across the globe and to stimulate demand for travel both to and from the UK.

Like much of the aviation industry, Virgin Atlantic has been battling falling ticket sales in the past 18 months. Revenues for 2009/10 dropped 8.6% to £2.35bn for the year to February 2010, resulting in a pre-tax operating loss of £132m, compared with a profit of £60m the year before.

Digital activity, created by Saint@RKCR/Y&R, will support the campaign, including display advertising and a microsite showcasing the Virgin Atlantic experience.