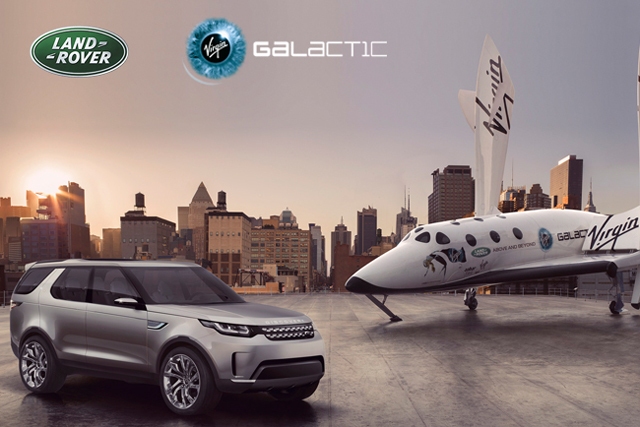 The deal was announced with appropriate bombast on board museum and former aircraft carrier USS Intrepid, which is anchored on the Hudson River in New York and also displays Concorde and Space Shuttle Enterprise.
The tie-up was conceived and negotiated by agency The Brooklyn Brothers, which created content for the partnership, including a short film.
Jaguar Land Rover displayed its Discovery Vision concept car alongside a full-scale replica of Virgin Galactic's SpaceShipTwo on the aircraft carrier. The concept car uses augmented reality to allow drivers to "see through" the bonnet of the car and view the terrain immediately in front.
The three-year partnership will also feature Virgin Galactic staff using Land Rovers across the business, including the "astronauts".
The partnership will be used by Land Rover to "inspire young people across the globe to pursue careers in engineering, science and technology", Land Rover said.
Branson added: "We couldn't be more delighted to have Land Rover join us on our incredible journey. It is hard to think of a brand which is more synonymous with exploration and adventure.
"The safety and engineering excellence of Land Rover's vehicles, which have been the stuff of legend for more than 65 years, are attributes which also lie at the heart of Virgin Galactic. We look forward to crossing the final frontier together and to a long and fruitful partnership."
Phil Popham, Jaguar Land Rover's group marketing director, added: "This is a marriage of two of Britain's most iconic brands, which celebrate shared values, a pioneering spirit and a true sense of adventure. Not only do we both share the same long-term vision to enable mankind to explore, but we also want to develop this partnership to inspire others."
The Discovery Vision concept will be on display at the New York Auto Show on 16 April.
The Brooklyn Brothers, which is working on the project for the duration of the three-year deal, also produced a film featuring Branson talking about the deal.