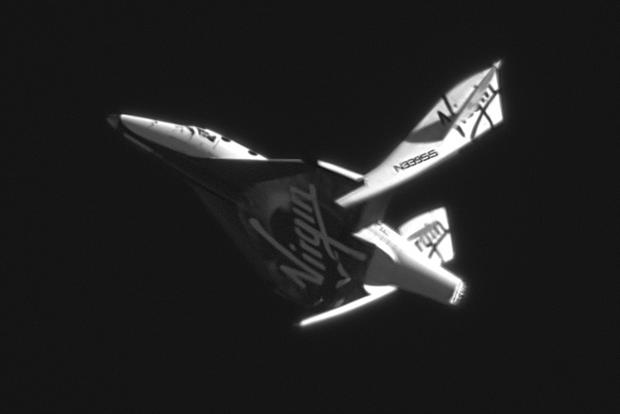 The space craft crashed during a manned test over the Californian desert on Friday, resulting in the death of one pilot. It had been due to begin commercial space flights as early as next year, which were to be launched from Spaceport America, in New Mexico.
While Richard Branson had said he "hoped" to continue with the Galactic programme if the issue that caused the crash could be rectified, questions have been raised over its future. However, official partners have pledged to continue supporting the project.
Grey Goose, which signed as a partner in September, yesterday issued a tweet of support saying: "We acknowledge the courage it takes to be a pioneer."
In a statement, a spokesperson said: "As an official partner of Virgin Galactic, we extend our sympathy to the Virgin Galactic community, as well as the families of the crew at this difficult time. We remain committed to our partnership and offer Virgin Galactic our full support."
Grey Goose was set to sponsor the initial space flight, for which 750 people had been sold a ticket, by providing special cocktails once the flight had landed.
In April, Land Rover also signed a three year contract with the space programme, designed to align the brand with the spirit of "adventure". The company confirmed it would also continue with the partnership.
The tickets, which were rumoured to cost more than £150,000 each, were in high demand with celebrities including Lady Gaga, Katy Perry, Leonardo DiCaprio, Tom Hanks, Angelina Jolie, Brad Pitt and Justin Bieber.
BMB founding partner Trevor Beattie, who is understood to be one of the ticket holders, tweeted to say he was "broken hearted" after hearing about the crash.
Sweet dreams and flying machines In pieces on the ground. Broken hearted.

— trevor beattie (@trevorbmbagency) October 31, 2014
In a statement on its website, Virgin Galactic sought to put an end to any suggestions that the business had not put safety at the centre of the project.
"Everything we do is to pursue the vision of accessible and democratised space – and to do it safely.
"Just like early air or sea travel, it is hard and complicated, but we believe that a thriving commercial space industry will have far reaching benefits for humanity, technology and research for generations to come.
"This is an important mission and we have been overwhelmed and grateful for the outpouring of support we have received from our future astronauts, friends in the industry and people all over the world who are inspired by the work our industry is doing and who are urging us to continue," he concluded.
Read next