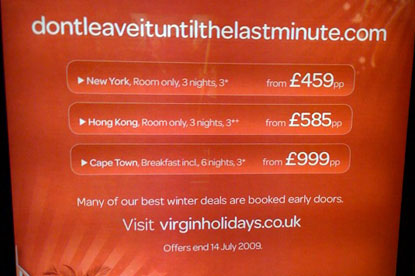 The company's ad agency, Elvis, has produced a poster, which runs with the headline 'dontleaveituntilthelastminute.com', claiming that many of Virgin Holidays' best deals are available when booked well in advance.

Yesterday, Lastminute.com confirmed that it had issued a claim for damages because it says the headline breaches its copyright.

A statement by Virgin Holidays released today said: "Virgin Holidays is disappointed by Lastminute.com's decision to pursue legal action over our current early booking marketing campaign.

"We totally refute the claims made against us."

The Virgin Holidays marketing director, Andrew Shelton, said that it was important that the company shared its 'early booking advantages' with customers.

The poster is running on London Underground sites, and other locations across the UK.