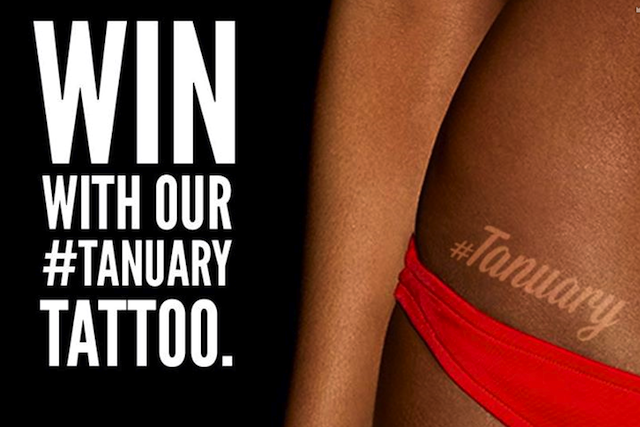 As part of Virgin Holidays' "the #Tanuary sale" campaign M&C Saatchi created a competition for a holiday, which appeared on the company's website and its Facebook page.
The digital ad for the competition featured an image of a woman's tanned stomach and arm with the text "The #Tanuary sale" on her torso on an area which had not been tanned.
Other pictures in the promotion featured a man with a wedding ring shaped tan line, a woman with a snorkel line on her face and a man with a mark shaped like binoculars on his bronzed chest.
The competition encouraged people to send in pictures of their own tan lines and upload them to Twitter or Instagram for a chance to win a holiday.
A second version of the ad saw Virgin Holdiays offer free "#Tanuary" stencils from its retail outlets which people could use to leave a tattoo of the slogan on their tanned bodies after going to the beach.
The ads attracted criticism from the skin cancer patient support group Melanoma UK, which said it promoted irresponsible tanning.
The ASA investigated after it received two complaints that the ads were irresponsible because they encouraged tanning without raising awareness of sun safety.
Virgin Holidays told the ASA its ad was prepared with social responsibility in mind and that a header on the web page featuring the competition featured the words "please tan responsibly".
People who clicked on the header were taken through to a page explaining Virgin Holidays' partnership with a skin cancer charity with a link to a further web page dedicated to sun safety.
Melonoma UK dismissed the partnership as a "tick-box exercise in CSR".
The #Tanuary stencils also featured the words "please tan responsibly" and entries to the competition featuring sunburned bodies were rejected and the entrant given information about safe tanning, Virgin Holidays said.
But the ASA said Virgin Holidays' "please tan responsibly" slogan was not given sufficient prominence in the ad because it was smaller than the promotion to win the holiday and said the large prizes on offer were a significant incentive for potential entrants to acquire a tan.
The regulator also said the second version of the ad, featuring the #Tanuary stencils, did not refer to sun safety.
The ads breached the ASA's codes governing social responsibility and must not appear again in their current form.
The ASA did not investigate the rest of the "the #Tanuary sale" campaign.
A spokesman for Virgin Holidays said: "Virgin Holidays and M&C Saatchi Group will not be contesting this ruling, although we are disappointed that the ASA has not taken in to account the context of these two specific executions within the wider Tanuary campaign and the prominence of the 'please tan responsibly' messaging given throughout, and our long term partnership with the safer sun charity, SKCIN.
"We welcome the ASA's invitation to discuss future campaign creatives."