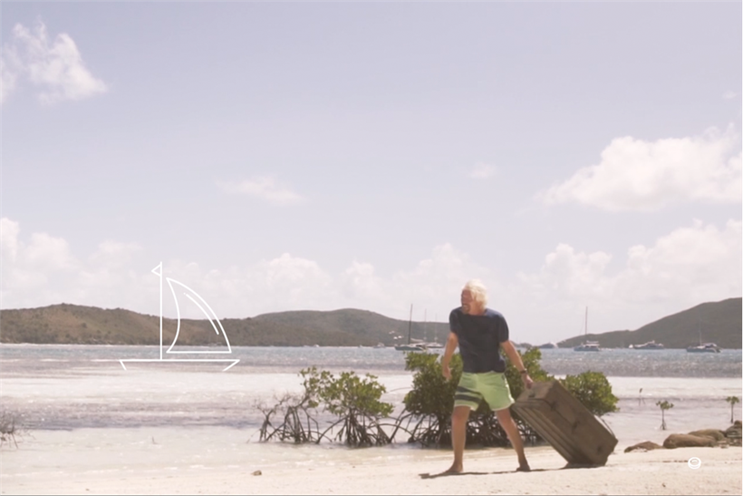 Richard Branson is a man known for having his fingers in rather a lot of pies, but until now, there has been little gelling the various components of the Virgin empire together, apart from a broad theme of leisure, travel and entertainment.
Enter Virgin Red, the first customer loyalty platform spanning the entire brand. Based on an app for iOS and Android, Red had a soft launch last summer, but officially lands next month with a launch campaign that is pretty audacious, even by Branson's lofty standards.
Involving 17 Virgin brands, 'V marks the spot' will see more than a million coins of various forms, physical and digital, each featuring the face of the founder, hidden in various locations around the UK and on websites.
The coins each feature a code, which when entered in the Virgin Red app, give the user an unknown number of points. The points can be used to unlock 'vaults', which contain various prize draws and offers.
The grand prize at the centre of the scheme will see nine winners and their partners flown off to Necker Island – Branson's private island in the British Virgin Islands – in August, to join the man himself and take part in an epic, literal treasure hunt, orchestrated by Branson, to locate a buried treasure chest containing heaps of Virgin booty.
Mr President devised both the Virgin Red brand and the launch campaign, while Speed Communications is handling the PR, including a launch event next Monday at London's Kensington Roof Gardens.
Long held amibition
Bringing the Virgin brands together under a single scheme has been a long held ambition for the group, says Red's marketing director Helen Tupper, but it has always posed problems.
"We needed to fully integrate the systems from each of our businesses, and technically, it was quite hard to do," she says. "The thing that really changed was technology. Apps, particularly, have made the whole process much much easier."
Red is open to anyone, but Virgin customers that enter the details of their accounts are rewarded with extra points each month – used to open the aforementioned vaults – and get access to more offers that don't need points.
Virgin is one of the most multi-faceted brands out there, but Tupper says that aspect of its identity has never been a concern: "People never really question it. The brand is quite forgiving, people think 'that's just Richard going into another business'."
Instead, the project came out of a need to leverage one of Virgin's greatest assets: those customers that bought from more than one of its businesses. They account for surprisingly few – around 10% of Virgin's 20 million UK customers.
"What we learned was that customers that had more than one relationship with us both spent more in each relationship, and churned considerably less," she explains.
"The challenge was customers who shopped across those disparate brands, and were frustrated that they weren't rewarded across those businesses."
Keep them coming back
Red has been designed to offer a similar user experience after the launch dies down. Users will win points in the app in various ways, like completing quizzes; these can then be used to unlock vaults. There are also offers that don't need to be unlocked, and the more Virgin user accounts you have connected, the more you get access to.
"The main thing we're looking for is to keep engaged users," says Tupper. "What we don't want to do is get a load of users in July who never come back."
She says the offers included in the app will span the potential of the Virgin empire: "It might be free things in there, competitions, VIP experiences. As well as the obvious things like discounts on trains, we try to curate the unique experiences in the business. We want people to know that Red is about rewarding people for living a life more Virgin."