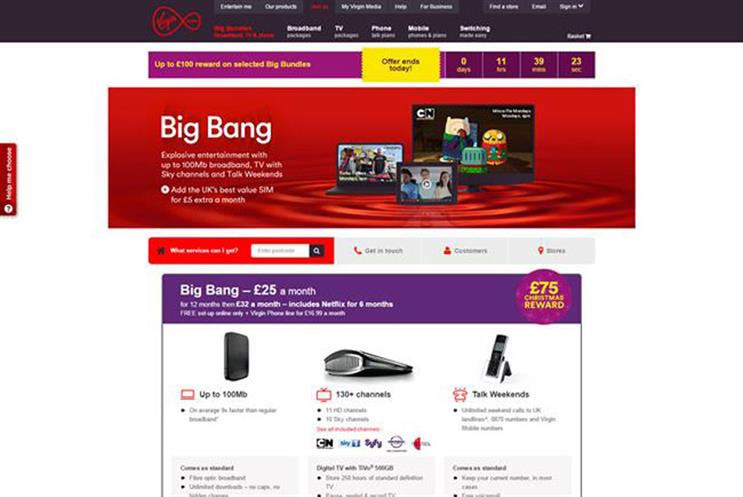 The ads appeared on virginmedia.co.uk. One claimed: "uSwitch exclusive offer - £50 reward on Big Connection with superfast up to 50Mb broadband and calls ... Just £4 a month for 6 months then £17.50 a month + Virgin Phone line (£16.99 a month) ... 12 month contract."
Another claimed: "Big Bang - £25 a month for 12 months then £32 a month - includes Netflix for 6 months ... FREE set-up online only + Virgin Phone line for £16.99 a month."
Ofcom published guidance on mid-contract prices which came into effect on 23 January 2014. It said that if a company wanted to increase monthly prices agreed at the point of sale it would be considered a "materially detrimental contract change".
If this happens, Ofcom said the customer should be given one month's written notice of the increase and the right to terminate the contract at no charge.
Virgin Media refuted claims from two complainants that the text on its site was misleading. It said that there may be an increase in price such as line rental "occasionally" which would impact the majority of customers.
However it added that it did not know if, when or by how much the core price may increase at the start of a contract.
The telecommunications provider said that it advertised the increase in price around two months before implementation, and that the rise only affected standard prices, not promotional ones.
The ASA ruled: "We considered that the monthly price of a contract was likely to be material to consumers when deciding on a telecommunications package, and that they might not choose a particular package if they knew that the monthly cost could increase beyond the amounts stated in the ad, during the minimum term."
As a result it told Virgin Media to make sure it detailed changes in charges "clearly and prominently" and asked for the ads not to appear again in the current form.
It added: "We also told them not to suggest that a price would be fixed for the minimum term of the contract, or for a certain period of time, if that was not the case."
This article was first published on www.campaignlive.co.uk