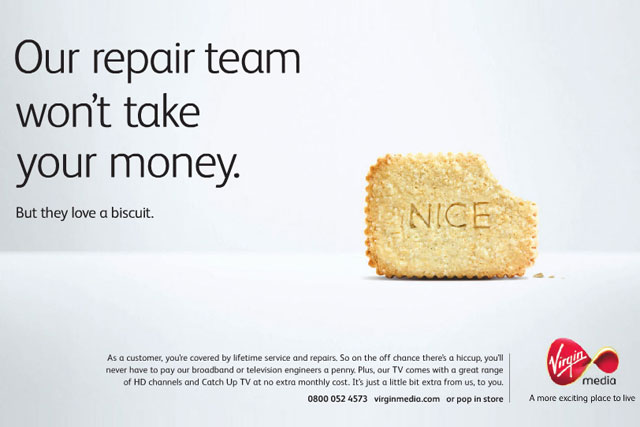 The print campaign, designed by DDB London, will focus on the benefits Virgin Media believes its customers value the most. The campaign's first creative says "Our repair team won't take your money. But they love a biscuit."
The campaign will then move on to highlight other benefits such as broadband speeds, which Virgin Media says "deliver on advertised promises", and the use of sports broadcaster ESPN at no extra monthly cost for its top tier TV customers.
Virgin Media has been rapped by the Advertising Standards Authority in recent months for some of its marketing for the competitive broadband sector.
Virgin Media's 'Stop The Broadband Con' activity came under fire in June while in July the media company was told to pull a 'Speedy Gonzales' ad for failing to prominently state which services were being compared.
The print campaign, with media planning and buying by Fifty6 (the agency set up by Manning Gottlieb OMD and Goodstuff for Virgin Media), launches today and includes activity in The Times, The Independent, Metro and the Daily Mirror.
The campaign will be expanded in the coming weeks with outdoor and further print ads.
Jeff Dodds, executive director of brand and marketing, said: "This new campaign is all about our mission to be the customer's first choice. We have lots of competitors trying to turn heads with introductory offers that look great on the surface but just don't deliver real value.
We're taking the opportunity to remind our customers – and maybe those who are thinking of joining us – why Virgin Media adds up to great value. In other words, why they're right to choose us, stay with us, and recommend us."
The Committee of Advertising Practice and the Broadcast Committee of Advertising Practice are currently conducting a review of the use of "up to" speeds in broadband advertising. A decision is expected in October.