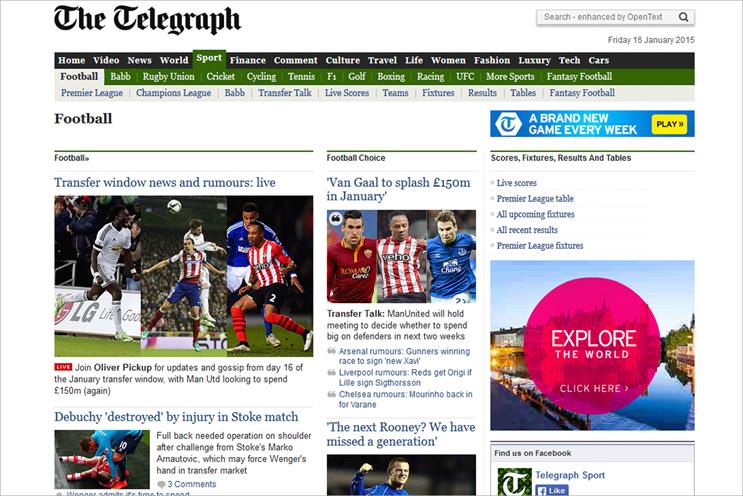 From Monday 19 January, Virgin Media will be the exclusive partner for Telegraph Total Football, the newsbrand's dedicated supplement.
The supplement will appear as a separate section in The Daily Telegraph each Monday for the duration of the season, providing news, comment and analysis of the weekend's football.
The partnership has been brokered by Manning Gottlieb OMD and aims to tap into Virgin Media being the only place viewers can get every BT Sport and Sky Sports in a single TV subscription.
Starting a fortnight before transfer deadline day on 2 February, when clubs finalise their squads for the season – Virgin Media will also have a presence on The Daily Telegraph's Football Live blog, and on weekly Premier League Insider emails.
Virgin Media customers will have the opportunity to attend Total Football Live events hosted by The Telegraph's top sports writers.
The first event will feature a panel with The Telegraph's chief football correspondent, Henry Winter, chief sports writer, Paul Hayward and former Premier League player and manager Tim Sherwood.
The event will be held on Tuesday 3 February and the panel will be discussing the previous night's closure of the transfer window. These events will be streamed live on The Telegraph online and Virgin Media's website.
Richard Larcombe, director of brand and marketing at Virgin Media, said: "Virgin Media is without doubt the best place to watch all the football and The Telegraph has some of the most insightful and well-connected sports writers in the game.
"Together, this is a perfect partnership and we will have a number of exciting innovations to unveil throughout the year. If the football is on TV, it's on Virgin Media."
Adam Sills, head of sport at TMG, said he was "delighted" with the partnership and said it reinforces "The Telegraph's commitment to providing the best sporting coverage in paper and online".