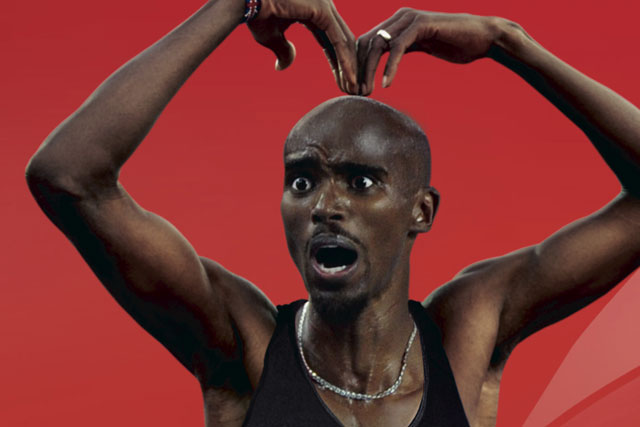 The double Olympic gold medal winner celebrates doing his Mobot pose after realising Virgin Media customers get extras, such as HD channels and double broadband speeds, without having to pay for them.
The strapline reads, "Can't say Farah than that". BBH was behind the ads, while Fifty6 handled the planning and buying. Tom Drew and Uche Uzugwu were the creative team on the campaign.
The ads, which form part of a multimillion-pound campaign that started last month, will run across outdoor, press, digital and mobile from Monday (1 October).
Farah is the latest Virgin Media brand ambassador, following in the famous footsteps of Stephen Fry, David Tennant, Samuel L Jackson, Uma Thurman and Usain Bolt.
Jeff Dodds, executive director of brand and marketing communications at Virgin Media, said: "What better way to remind our customers of how Virgin Media goes the extra mile to deliver brilliant services than with national hero, Mo Farah?
"Mo's brought us some golden moments throughout 2012 and with amazing digital services, including HD TV at no extra cost and the UK's fastest widely available broadband, Virgin Media is the perfect place to enjoy them all."